News
We will be adding any press releases or other news items to this section as soon as they are available. Please check back regularly for updates or register for our e-mail newsletter to receive the very latest news.
DONATE by Text
Text HALL29 and your £ amount to 70070
Steaming Down the Valley - Race the Train!
28th June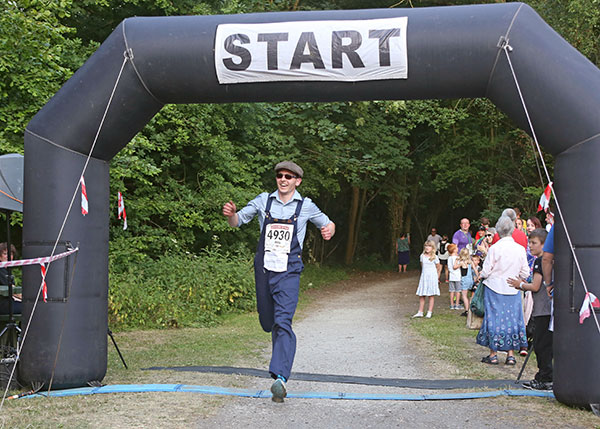 Running as "4930", Andy Poole crosses the finishing line at Country Park Halt after the 3 ½ mile run from Arley. GWR 7802 "Bradley Manor" proved superior to all the runners on the northbound leg, but Andy and all the other competitors put in very creditable performances over a gruelling course, and in high temperatures.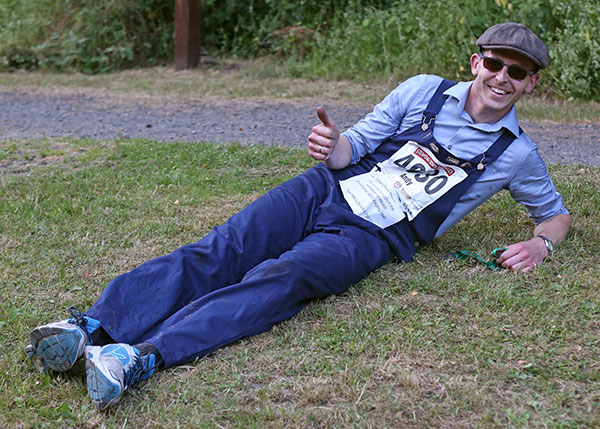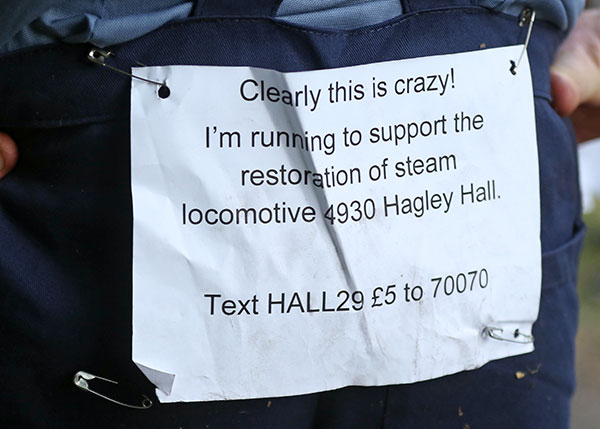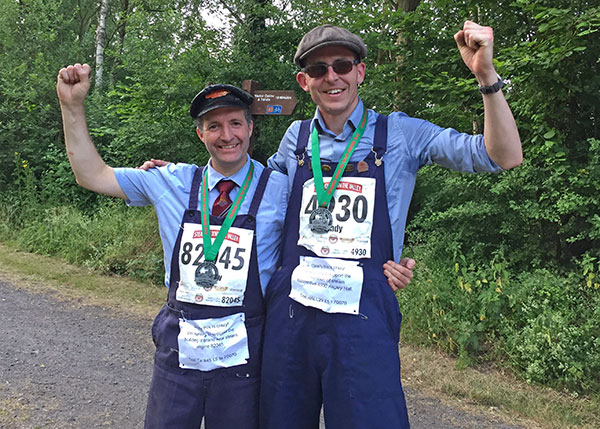 Both Andy Poole and Andy Stringer shed a few pounds during the race. Please help the 4930 Restoration by shedding a few £Pounds! Donate by Text. Text "HALL29" and your £amount to "70070"
2018 Steaming Down the Valley - Racing the Train
22 June
On Thursday, 28th June, runners will have the opportunity to pit their strength and endurance in a challenge to race the train on a 3 1/2 mile route alongside the Severn Valley Railway between Country Park Halt and Arley.
One of our Friends of Locomotive 4930 Hagley Hall members, and working volunteers, Andy Poole, who has very recently qualified as a Locomotive Fireman, will be one of the runners. Andy plans to fire a steam locomotive over the first leg of the journey from Country Park Halt, then to run the return section in full fireman's bib and braces! The only concession is that he will exchange his steel-toecapped boots for running shoes!
As Andy is running his section as part of a relay, with another fireman Andy Stringer also taking part, they will be using a historic single-line section token as a baton during the race.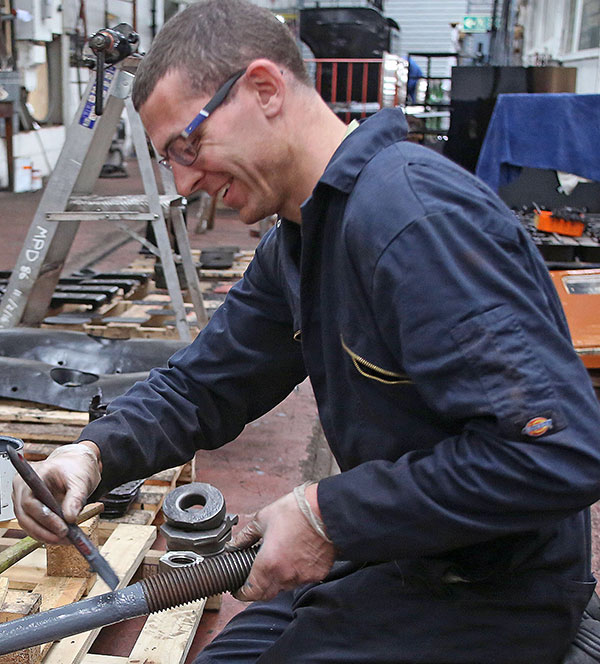 Expected high-temperatures on the day will make this a gruelling challenge, and we all wish Andy, who will be running in support of the 4930 Hagley Hall Restoration Fund, the very best of luck.
Please support Andy, and the 4930 Restoration by Donating by Text. Text HALL29 with your £ amount to 70070
New Cylinders Delivered
11th June 2018
The newly cast cylinder blocks for 4930 "Hagley Hall" have been delivered to Bridgnorth Works today. The cylinder castings, each weighing about 2½ tons, were manufactured at Shakespeare Foundry in Preston, Lancashire.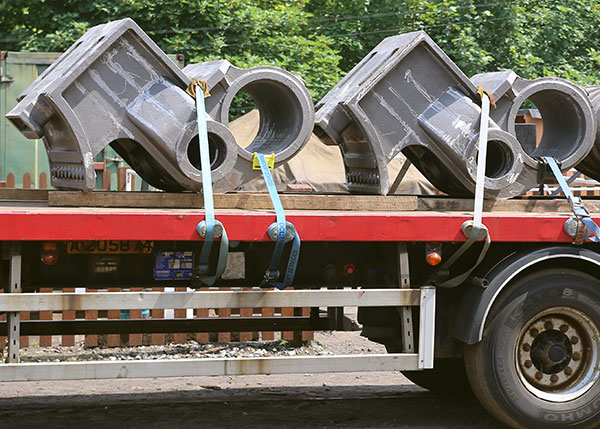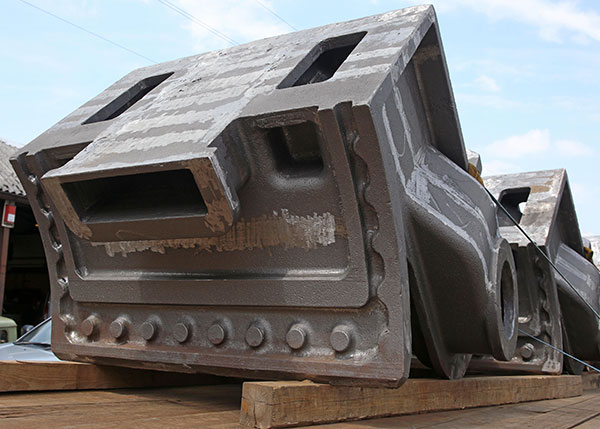 This is another significant milestone in the overhaul of 4930, which will drive the project forward. Be a part of the restoration. DONATE BY TEXT NOW. Text: HALL29 with your £amount to 70070 and help to accelerate 4930's return to steam.
4930 Boiler Update
8th June 2018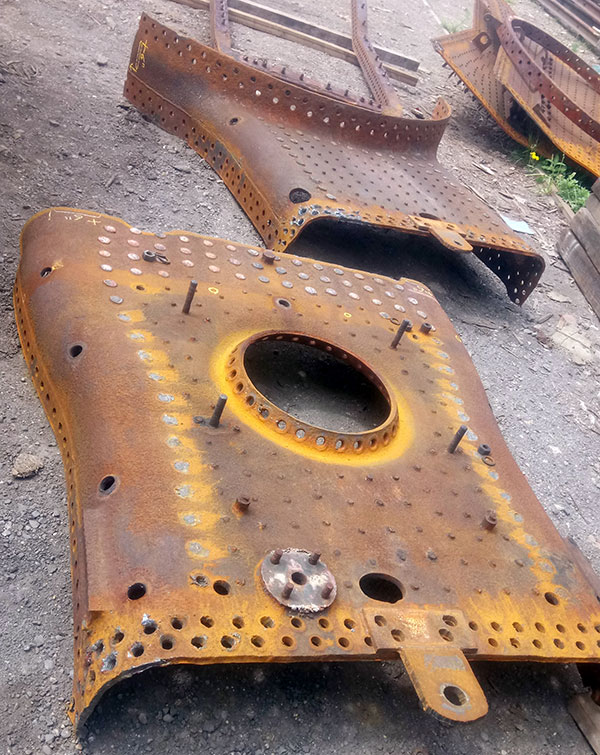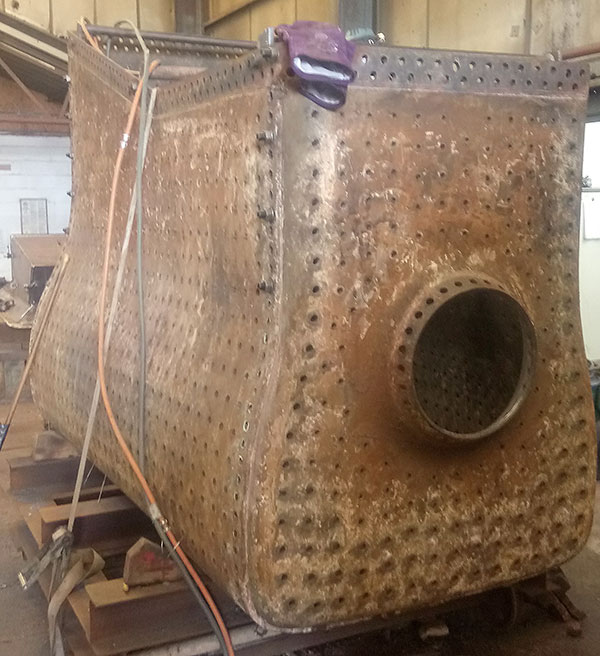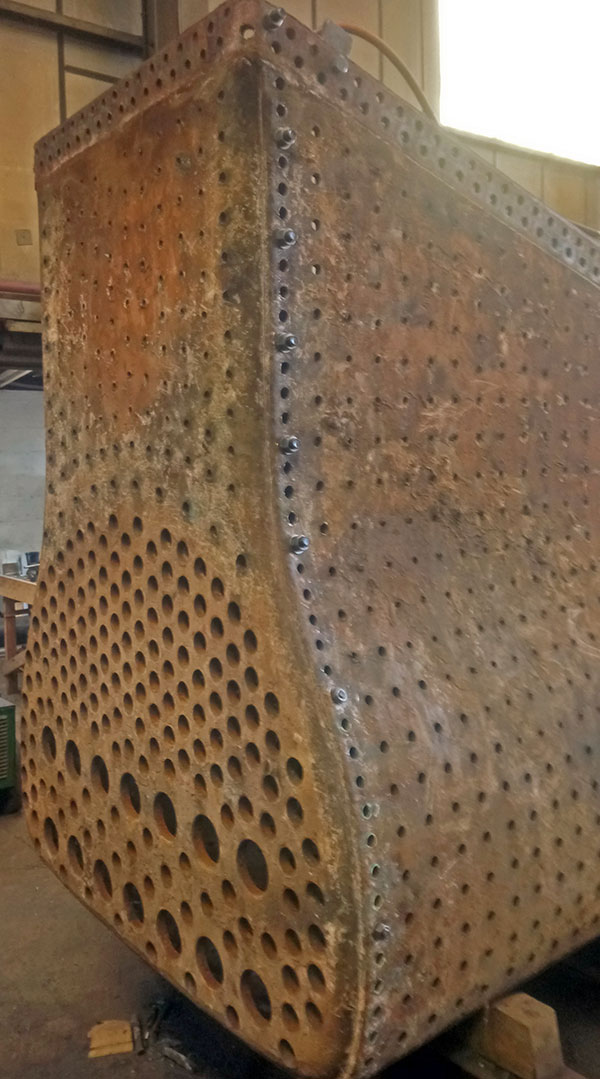 Work on 4930's boiler at Northern Steam Engineering at Stockton is now gathering pace.
4930 Cylinder Update
7th June 2018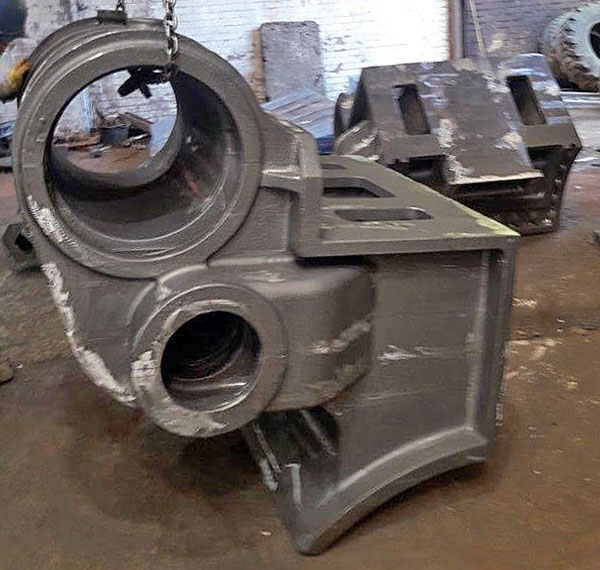 4930's new cylinders have been successfully cast at the foundry and are now awaiting delivery to Bridgnorth Works. This is expected to take place within the next week.
4930 Industrial Archaeology
4th June 2018
Following the recent removal of 4930's cab roof and cabsides, volunteers began removing the accumulated rust, coal and dust which had lain on the underside of the cab floor for many years. During this task, an interesting discovery was made, in the shape of a button from the tunic or overalls of one of 4930's former drivers or firemen.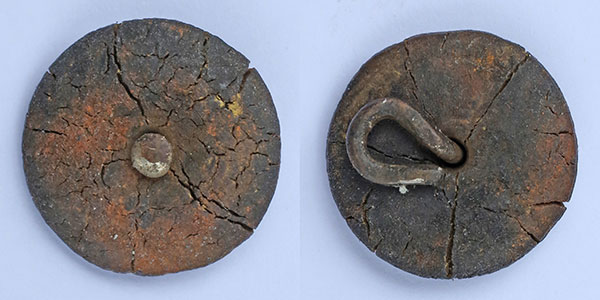 If we ever discover to whom it belonged, or how long it had been lying under the cab, we would be happy to return it to its owner !
SVR Junior Club help 4930's restoration gather pace
3rd June 2018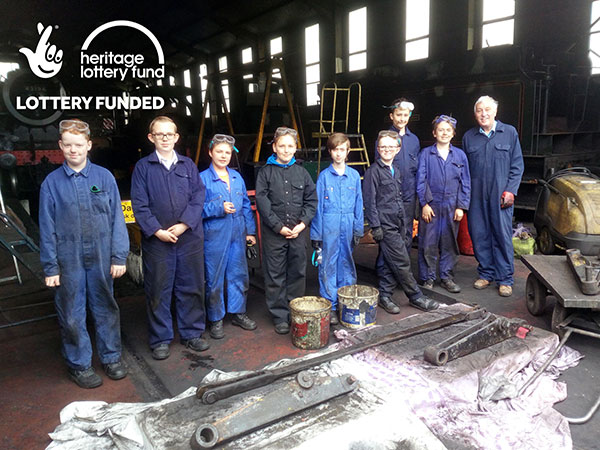 Another recent Junior Club working day saw the enthusiastic youngsters return to Bridgnorth Works where they spent their time deep cleaning some of 4930's brake components. Our grateful thanks go to all of them, and we look forward to their continued assistance as the locomotive's restoration gathers pace.
Hagley Goes Topless!
22nd May 2018
On Saturday 19th May, volunteers at Bridgnorth Works removed the cab roof and cab sides from 4930.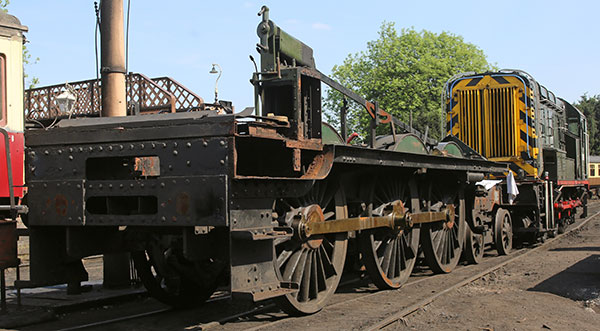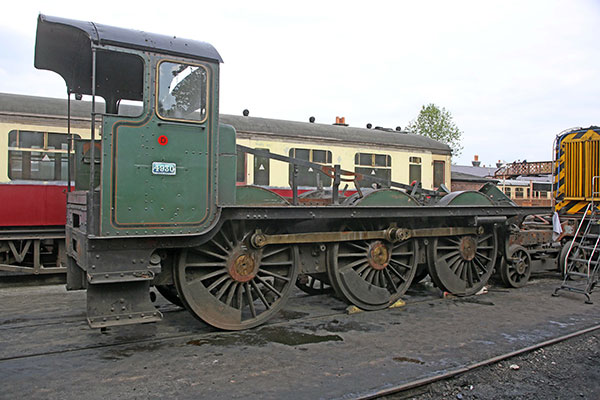 4930 News Update
1st May 2018
Work has commenced in stripping down 4930's boiler at Northern Steam Engineering Ltd., the tubes having been previously removed whilst at Bridgnorth. The bottom three-quarters of the sides of the outer firebox have been removed, and will be replaced. The throat-plate rivets fastening it to the sides and barrel have been removed in readiness for its removal, along with the lower portion of the door plate, which is also expected to require replacement.
Meanwhile, confirmation has been received that the new cylinder block castings have now been poured.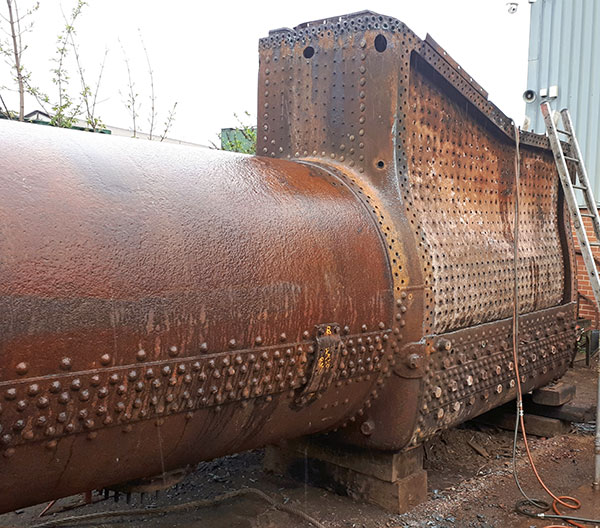 "Bon Voyage" to 4930's Boiler
10th April
The boiler from 4930 "Hagley Hall" departed from Bridgnorth Works by road this afternoon, destined for the workshops of Northern Steam Engineering Ltd. at Stockton. Prior to departure, the chimney of the locomotive was removed for safekeeping.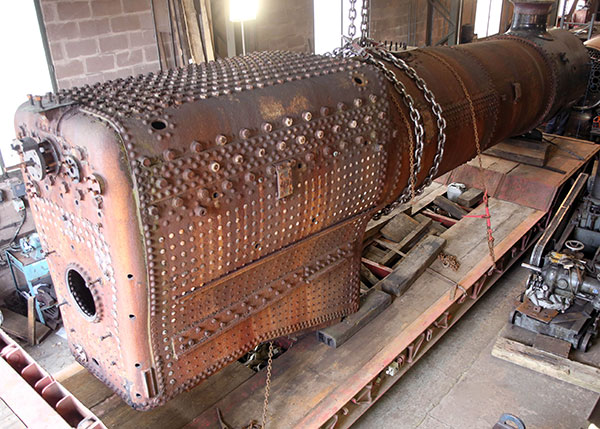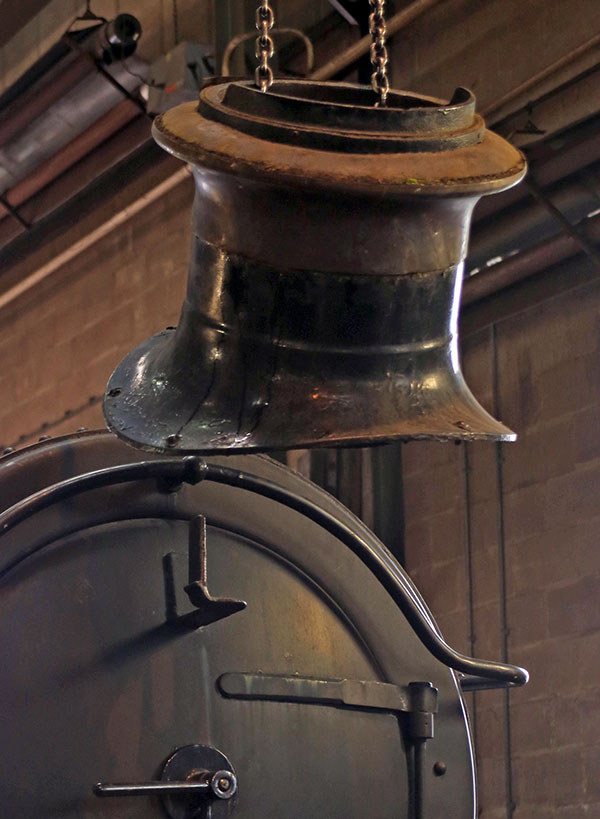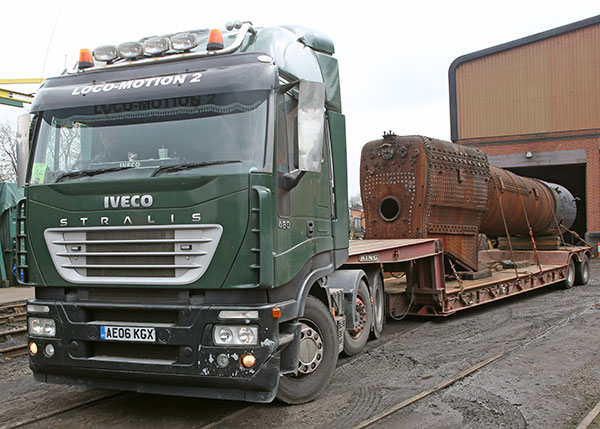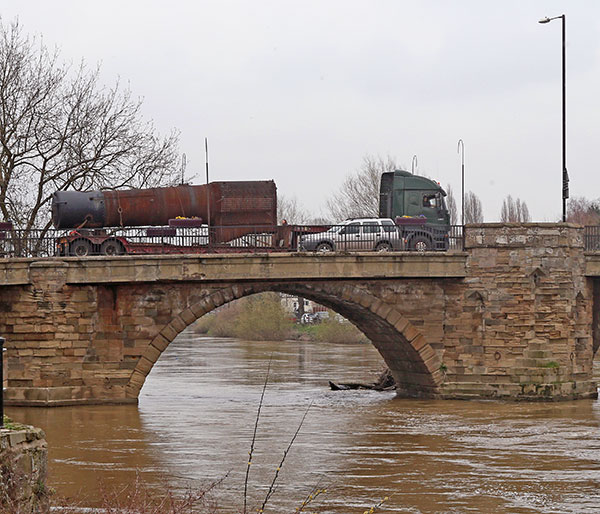 4930 Hagley Hall boiler on the move
6 April 2018
Locomotive 4930 Hagley Hall's boiler is about to leave the Severn Valley Railway for overhaul, as the project to restore GWR "Hall" No 4930 to running order takes a major step forward.
The announcement was made by the Friends of Locomotive 4930 Hagley Hall, in association with the Severn Valley Railway Charitable Trust. The SVR has finalised a contract with Northern Steam Engineering Ltd of Stockton for an overhaul of the locomotive's boiler. The boiler leaves the railway on 10th April, with work on the overhaul expected to start immediately, to allow a completion during summer 2019.
Speaking on behalf of The Friends of Locomotive 4930 Hagley Hall, Paul Hobson said, "This is an exciting development in our quest to return Hagley Hall to steam, and we would like to acknowledge the financial support we have received both from the Heritage Lottery Fund, and also from our loyal group of 4930 supporters. Many of these people have been regularly contributing funds to the restoration appeal in recent years, in anticipation of a return to active service of the SVR's former flagship locomotive."
The Charitable Trust's director Shelagh Paterson added, "This announcement shows that the restoration project is progressing well. Alongside this development, we are delighted that the new cylinders for 4930 are about to be cast. These two schemes are clear evidence that Hagley Hall's return to front line duties on the Severn Valley Railway is well under way."
The SVR's engineering services manager Neil Taylor said, "This is a strategic decision to accelerate the rebuild of 4930 which will mean that we can increase our fleet of Class 4 and Class 5 locomotives. I am also pleased that we'll be extending our existing partnership with Northern Steam Engineering."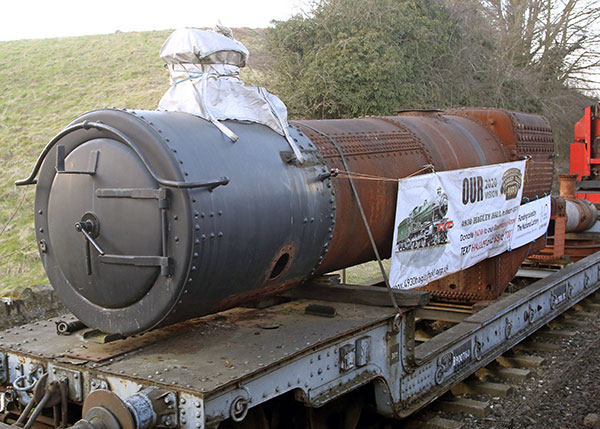 The Friends of Locomotive 4930 Hagley Hall welcome further donations and membership to complete the restoration. Donations can be made online at svrtrust.org.uk or using a mobile phone to text "HALL29" with your £amount to 70070.
4930 News Update
15 March 2018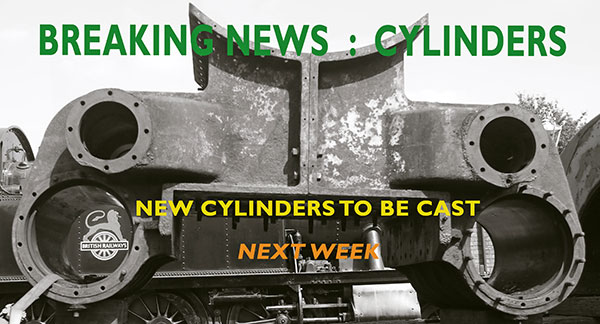 The polystyrene patterns for 4930's new cylinders have now been transported to the foundry for casting. The foundry is currently forming the moulds with the intention that casting should take place during week commencing 19th March.
Subject to successful casting, we hope to have the new cylinder castings on display at the Severn Valley Railway Open House Weekend in Bridgnorth Works on 7th/8th April.
The Friends of Locomotive 4930 Hagley Hall will have their Sales Stand at the SVR Spring Steam Gala at Kidderminster on 16th/17th/18th March. Please call and see our sales items.
4930 News Update
30th January 2018
We are delighted to announce that the polystyrene patterns for the casting of new cylinders for 4930 Hagley Hall have been completed at Premier Patterns following comprehensive design work by Stafford Road Design Ltd.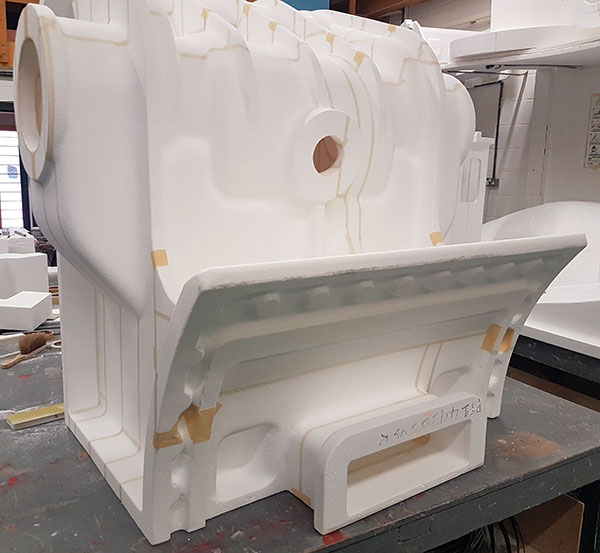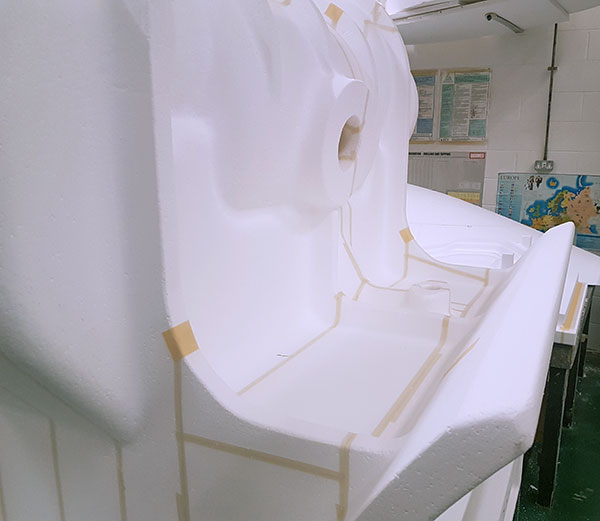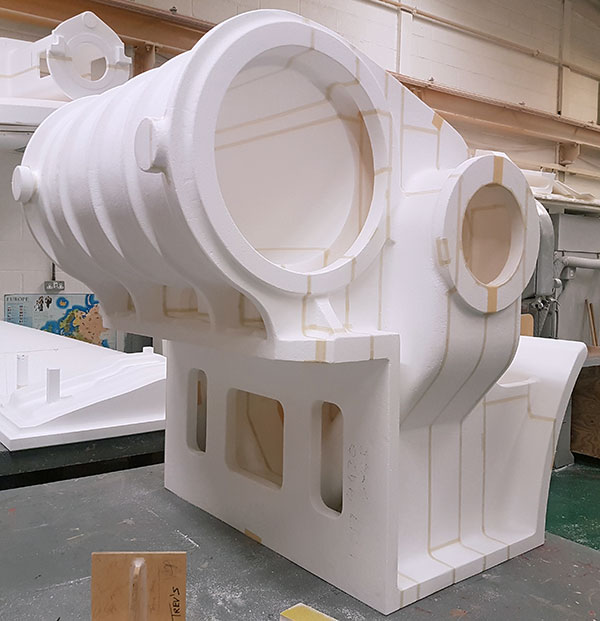 The patterns will shortly be making their way to the foundry for casting, and we are confident that 4930's new cylinders will be delivered to Bridgnorth in the next few weeks.
Meanwhile, ultrasonic testing of 4930's driving and bogie axles has taken place at Bridgnorth today, as part of the locomotive overhaul programme.
A new series of dates for 4930 Working Parties will be announced shortly.
News Update
22nd December 2017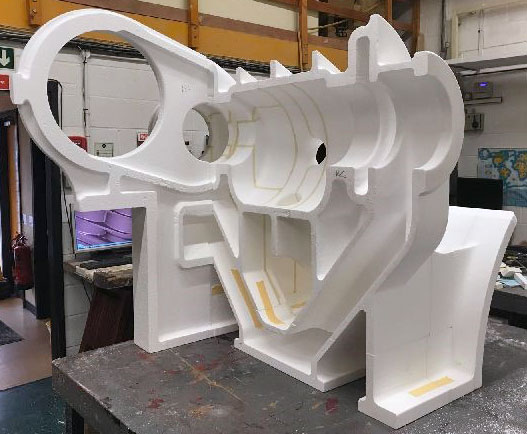 The year ends on a high note, with this photo having just been received from Premier Patterns, who tell us that our pattern for the new cylinders is in progress.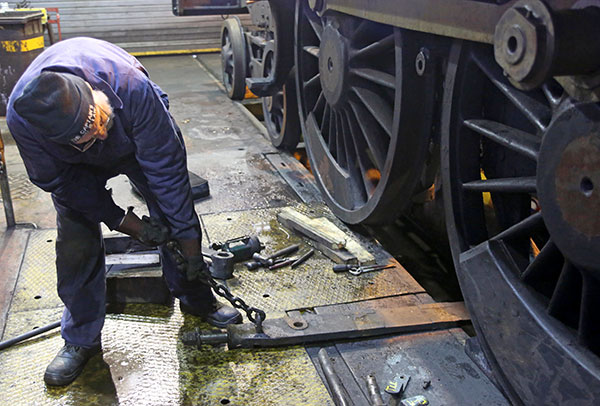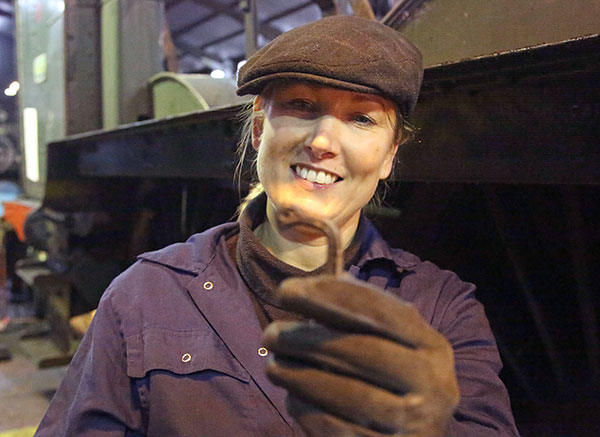 Also, volunteers have, in the last week, succeeded in removing all of 4930's brake rigging and hangers.
The 4930 Friends of Locomotive 4930 Hagley Hall Group wish all our supporters a Happy Christmas and Best Wishes for 2018.
4930 News Update
20th September 2017
Throughout the Summer, design work for the new cylinder castings for 4930 has been moving ahead. The lack of original engineering blueprint drawings of early Great Western Hall cylinder blocks has been overcome by an innovative solution by Stafford Road Design Ltd. Their Facebook page has an interesting animation of valve timing in action.
Back-engineering the GW Grange Class cylinder blocks, which possess many similarities with those of early Halls, and comparison with the existing 4930 measurements has resulted in a replication of the present cylinders.
Design work is now complete, and is now subject of rigorous authentication and validation by an independent assessor.
The tendering process for manufacture of the polystyrene moulds used in the cylinder casting process, and for the metal casting of the new cylinders, is now under way.
The locomotive frames are likely to be stripped at Bridgnorth over the next three months.
4930 News Update
18th September 2017
Our Sales Stand will be at Kidderminster Town station concourse on all Autumn Steam Gala days. Now is your chance to stock up on new 4930-branded winter clothing, and even early Christmas presents. Our main sales attraction is renowned railway artist John Austin FGRA's new commissioned work in support of the 4930 restoration project.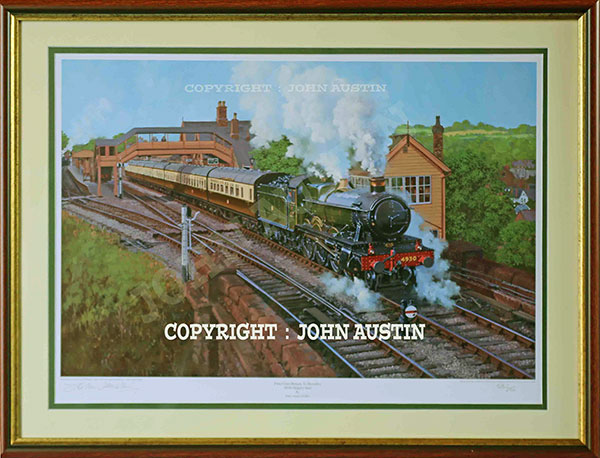 Both framed and unframed prints will be available during the Steam Gala Event. Please call and see us for this and other sales items, and for the latest news.
4930 News Update
8th June 2017
Today marks the 10th Anniversary of the return to the Severn Valley Railway of 4930 'Hagley Hall', following its eight-year display at Swindon Outlet Centre. In an intricate operation on 7th June 2007, 4930 was winched out of its home inside the former GWR Swindon Works, and placed on a low-loader for the road trip back to Kidderminster.
Following an overnight stop at Allelys Heavy Haulage Depot at Studley, 4930's onward journey to Kidderminster incorporated a small diversion at Hagley, where, by kind permission of Lord Cobham, the locomotive made a short stop at the stately home after which it was named.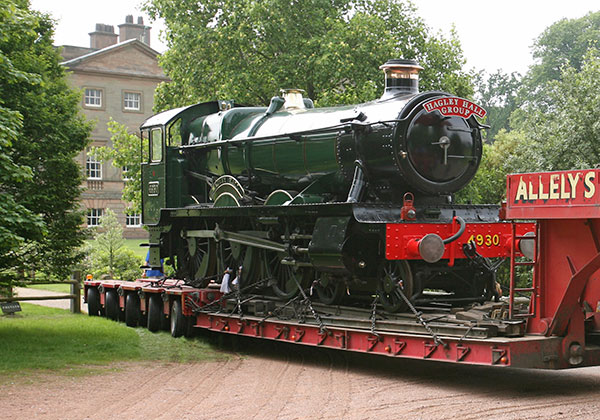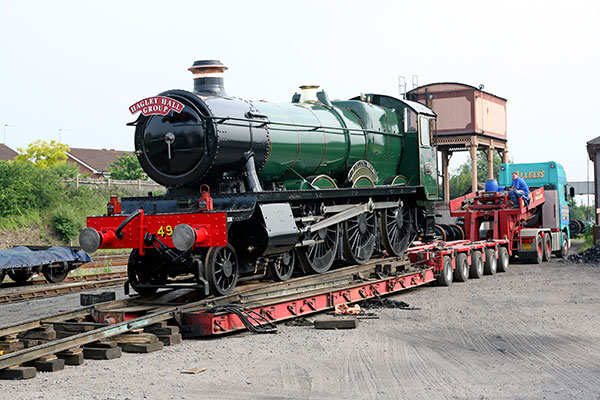 Next dates for 4930 work parties
The next working party dates will be:
Sunday 28th May
Sunday 18th June
As before, all SVR members, who have completed volunteer induction, are welcome to attend. No specific engineering skills are required, but any you may have can be put to good use!
4930 NEWS UPDATE - 4930 Our 2020 VISION
07 Mar 2017
In partnership with Severn Valley Engineering Services, a more detailed programme has now been formulated to take the ongoing restoration of 4930 Hagley Hall through to final completion.
It is intended to begin major work on the boiler at Bridgnorth Works towards the end of June this year, whilst work on the frames should begin at the end of September. As soon as the driving wheels can be removed from the frames, they will be transported to the South Devon Railway for the process of fitting new tyres.
During the past fortnight, specialist contractors have, under controlled conditions, removed all asbestos content from the existing cylinder block following the splitting of the two halves. The intention is now to create a 3D Computer Aided Design, which will be used to manufacture a new set of authentic cylinders to power 4930 through the 21st Century. This design work is currently in progress.
As these major areas of the restoration proceed, our volunteers continue to clean, refurbish and paint many of the smaller components necessary for refitting to the tender in due course.
Whilst the quoted dates are subject to the completion of other locomotive projects at Bridgnorth, there is a growing confidence that 4930 will be completed for the 2020 Season.
Please help to make this '2020 Vision' a reality by supporting our fund raising appeal. Text your £amount to HALL29 on 70070, or become a supporter by donating a monthly sum of your choice. See our website for detail.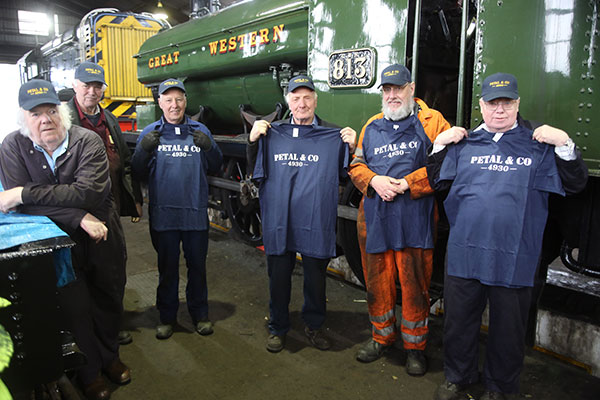 Modelling the very latest in 2017 Season exclusive 4930 Corporate Workwear, our tenacious volunteers 'Petal & Co' pose for the camera.
Next dates for 4930 work parties
Sun 26th Feb - (please note that due to other meetings etc. under way, this date is unsuitable for first time attendees)
Sat 4th March
Sun 12th March
Sat 25th March
The primary team leader will be Martin White.
No specific skills are required. Everybody welcome, as long as you are a current and fully inducted SVR working member. Please contact the SVR VLO if you wish to arrange an induction day. We look forward to seeing you!
4930 Working Parties
The next planned dates for working parties during the "closed season" at Bridgnorth are:
Saturday 21st Jan (point of contact - Andy Sweet)
Sunday 22nd Jan (Martin White)
Saturday 11th Feb (Martin White)
Dates beyond the start of the running season will be published as soon as the rosters for loco crew become available, but will include Saturday 4th March.
As before, all SVR members, who have completed volunteer induction, are welcome to attend. No specific engineering skills are required, but any you may have can be put to good use!
During the winter closed season "office hours" apply, approximate hours are 0930 till 1630, but even if you can only spare a few hours within that time it would be appreciated. If bad winter weather is forecast please check here or with us to confirm it is still going ahead. We look forward to seeing you!
4930 NEWS UPDATE
04 Jan 2017
As we enter the New Year, recent work on 4930's tender frame is nearing completion, with all new steelwork now riveted into position at the rear of the structure, and awaiting several coats of paint.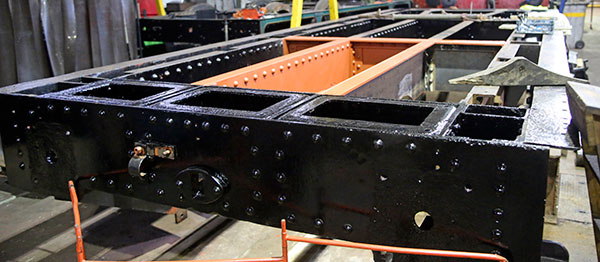 Meanwhile, Bridgnorth Works' painters have been hard at work transforming the new tender tank from red ochre to a more pleasant green undercoat.
Behind the scenes, research is under way to source original Hall cylinder block engineering drawings. Cylinder Block replacement will be a costly additional expense, but will ensure that 4930 will hopefully run for a further half century and beyond. Please support our continuing fund-raising, as work on the restoration enters several new phases during 2017. Remember, it is easy to DONATE BY TEXT by texting your £ amount (either £1, £2, £5,or £10) to HALL29 at '70070'. Your donation will help, and will be greatly appreciated as we advance this project.
4930 News Update
31st October 2016
The work party on 30th October continued work on the rear of the tender chassis, preparing the area for painting. Using needle guns, the box sections were surface cleaned of any remaining rust and dirt, before application of the first layer of primer paint.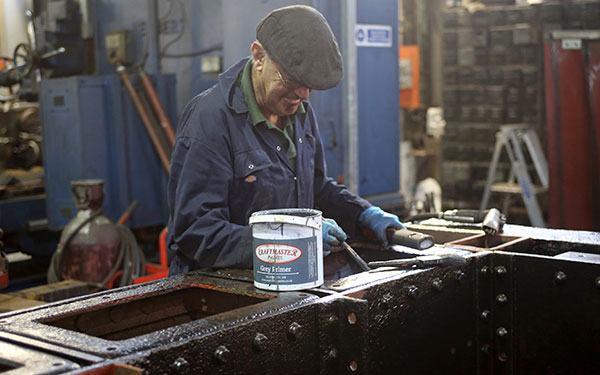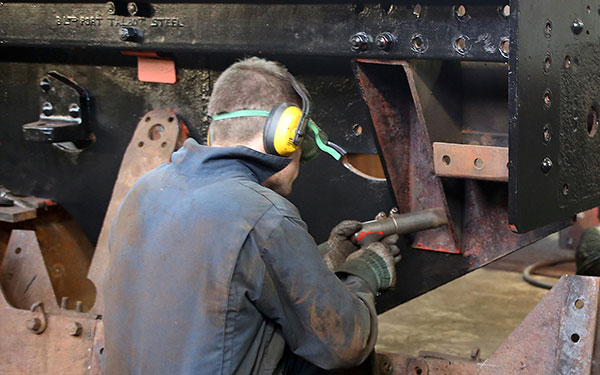 4930 News Update
24 October 2016
The newly-constructed Collett-design tender tank for 4930 was delivered to SVR Bridgnorth Works today by road transport hauliers Prestons of Potto. Utilising the overhead crane situated in the Boiler Shop, the tender tank was soon transferred to a flat wagon for temporary storage. The delivery of the tender tank marks another milestone in the restoration project, and co-incides with the payment of £50,000 to the Severn Valley Railway (Holdings) PLC by the Friends of Locomotive 4930 Hagley Hall. This amount covers the manufacture of the new tender tank, the new tyres on the tender wheels, and other work in progress. The 4930 Group are pleased to have been able to provide this financial package, thanks to the continuing support of the loyal membership, and all others who have contributed to our fund.

We have new items available on our Sales Stand at Kidderminster SVR Station during the Autumn Steam Gala between 4th - 6th November. Why not visit us and stock up on those Christmas presents.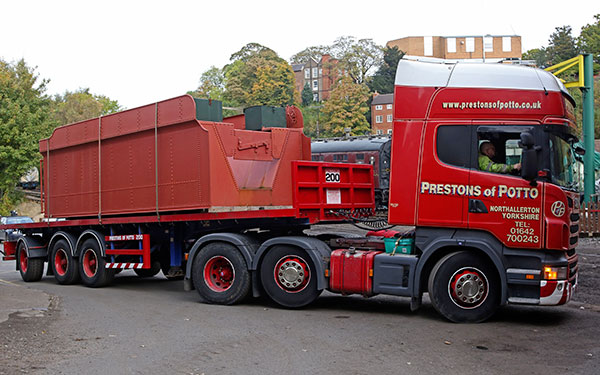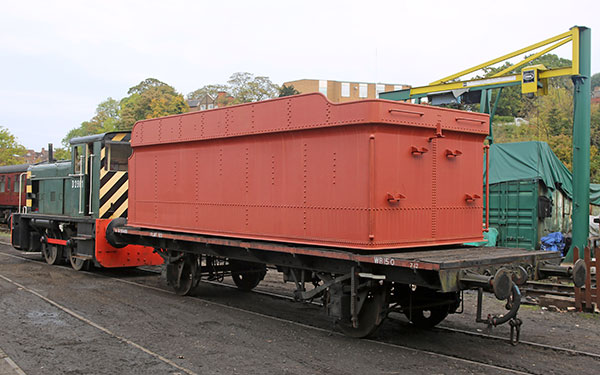 4930 News Update
19 Oct 2016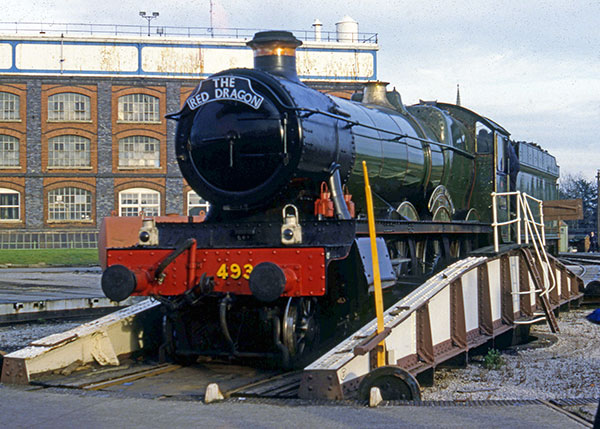 Photo: Dave Giddings
This week marks the 30th Anniversary of 4930's last steaming in October 1986, at the conclusion of seven years of front-line activity on the Severn Valley Railway, and after hauling numerous mainline charter services as far afield as Chester, Swindon, Andover, Cardiff and Plymouth.
One generation later, and with 4930 in its 88th year, restoration and complete overhaul of the locomotive is now firmly under way, and with the probability of it re-entering service around its 90th Birthday with a 10-year boiler certificate, it should remain in steam until its centenary in May 2029.
Much work remains to be done to 4930 at Bridgnorth, and the Group would welcome new volunteers to help with the tasks of cleaning and painting the many components awaiting re-fitting to the locomotive. Please contact GWR4930@yahoo.co.uk for further information.
Our fundraising effort at our sales stand, which will be present at Kidderminster Station during the SVR Autumn Steam Gala on 4th-6th November, is now further enhanced by our new 'Giving by Text' facility, which will provide a fast and easy way of supporting the 4930 restoration by means of a quick text message. As the casting of new cylinders is becoming a very real probability, every donation will make a real difference to our efforts.
To give: Text HALL29 and your £ amount to 70070
4930 work parties at Bridgnorth Works
01 Oct 2016
Work parties will take place on the following dates:
Sun 2nd October
Sat 15th Oct
Sun 30th Oct
Sun 20th Nov
Sun 4th Dec
The working parties are open to any SVR member who has completed the volunteer induction course. (Please contact the Volunteer Liaison Officer if you wish to arrange to attend an induction).
4930 NEWS UPDATE
21st September 2016
Following our announcement earlier this year that the Friends of Locomotive 4930 Hagley Hall had raised the landmark figure of £100,000 since formation in 1999, we are now even more pleased to report that we have now exceeded the figure of £110,000, thanks to the continuing support of our regular band of donors, and the continuing success of our sales stand items. This will significantly assist with the locomotive restoration, but further donations and financial assistance are required as work proceeds. Please help by becoming a regular donor.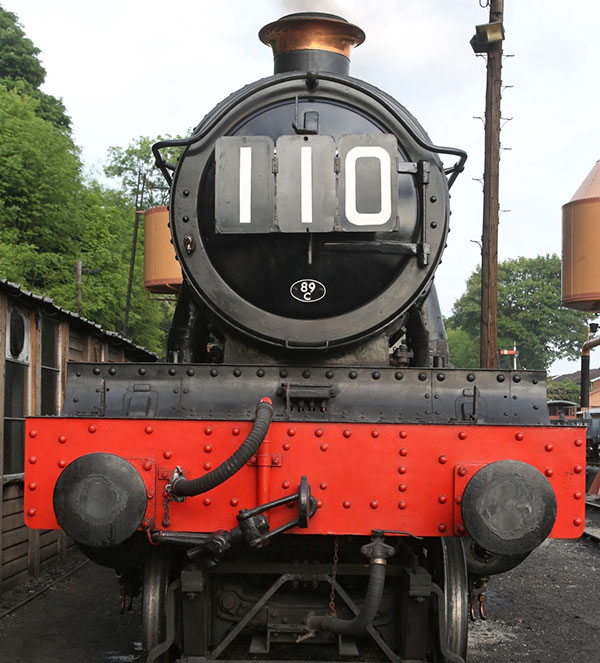 Renovation and repainting of tender components continues during our volunteer sessions at Bridgnorth Works. Each item needs to be cleaned and inspected before repainting, which involves application of six coats of paint; 2 primer, 2 undercoat, and two top coats. Work on the spring hangers now being almost complete, attention will turn to the intermediate buffer and draw-gear.
The Group would welcome new volunteers to assist with cleaning and painting components during the volunteer sessions. No engineering skills required, just an enthusiastic desire to help return 4930 to working condition as soon as practicable. Please contact us for details on GWR4930@yahoo.co.uk
On Saturday, 10 Sept, a work party was successful in splitting the two halves of the cylinder block, to allow full examination of the condition of the interior passages. Subsequent inspection has, however, confirmed that the cylinders have been previously patched, and are therefore now considered to be beyond repair. Engineering drawings of early 'Hall' cylinders are now being sourced, and the likely way forward will be the casting of new cylinders.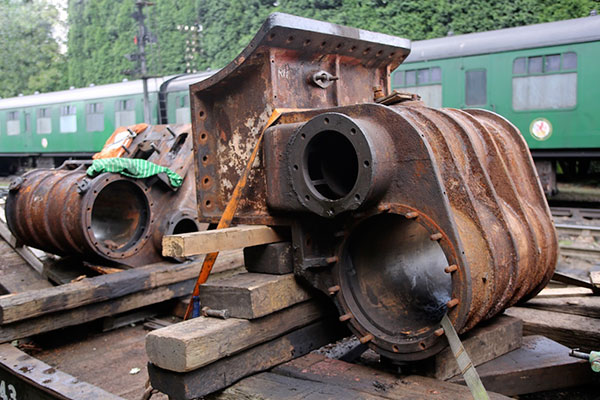 Work on the tender frames has also been progressing, and repairs are now at an advanced stage. All remaining wasted metalwork at the rear end has now been removed, and fabrication of the replacement steel beams is imminent. Most of the tender chassis has now been given an initial coat of primer paint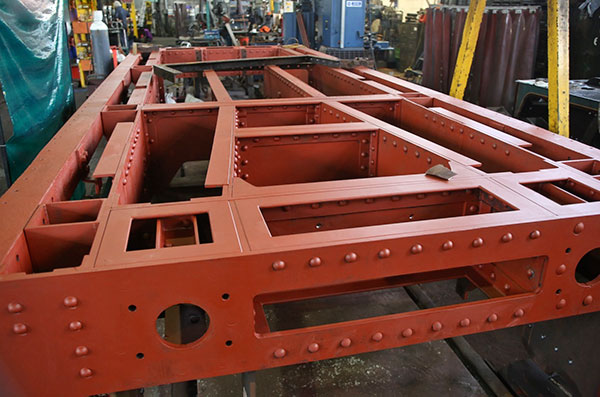 It is understood that on completion of this work, the new tender tank will be delivered from its present storage location.
Please support our aims to return 4930 to traffic, both by donations or practical assistance.
4930 News Update
17 Aug 2016
Following the fantastic progress made on 4930 during the last week, we now report more developments which move the project further ahead. Yesterday, during a test of the SVR's steam crane, the opportunity was taken to remove 4930's cylinders. Here, we see the operation in progess: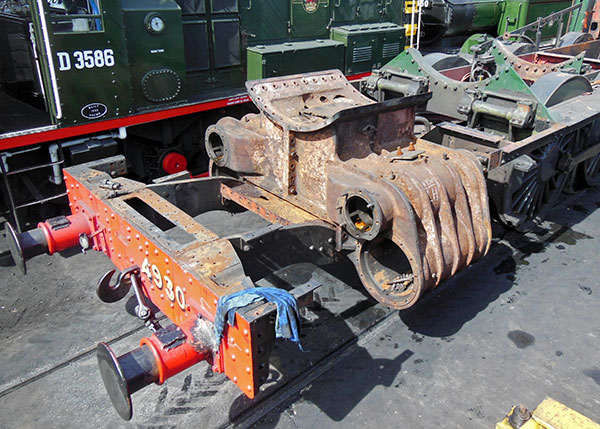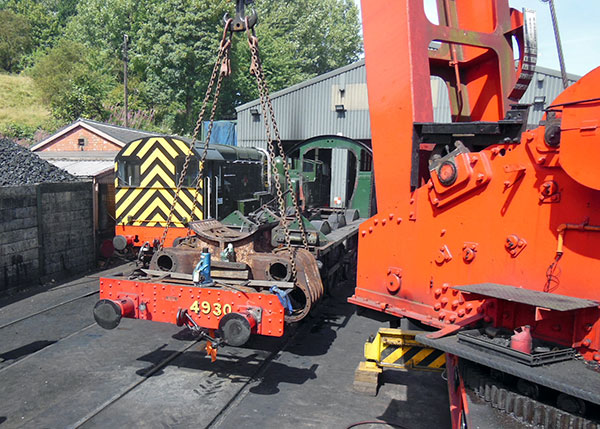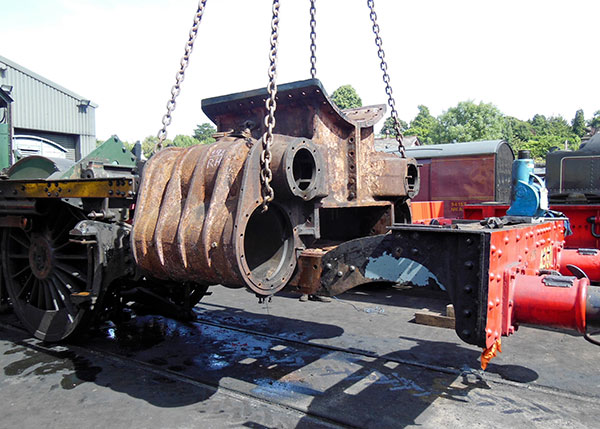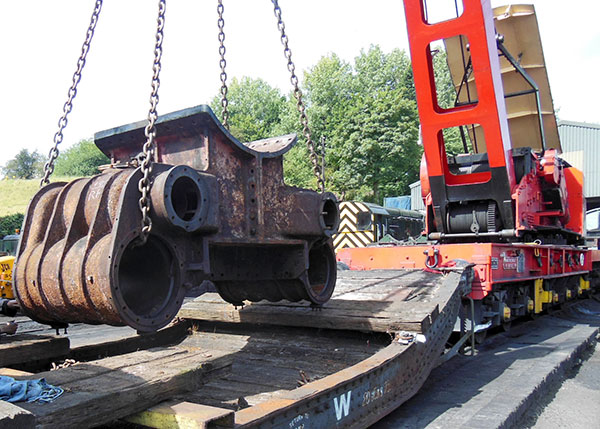 Today, with the cylinders removed, work to clean and prepare 4930's frames has already begun, whilst the riveting of the tender frames continues apace, with all new steelwork at the front end now firmly in position.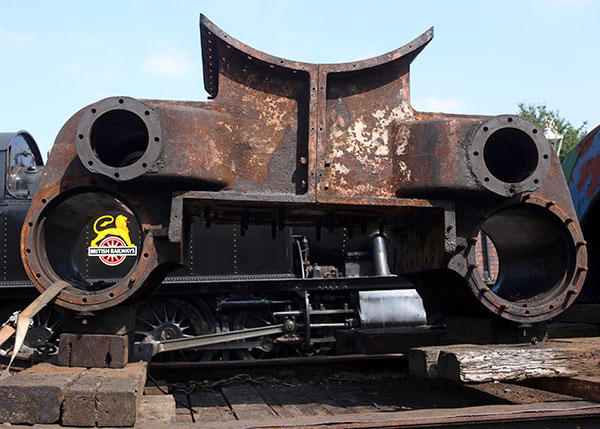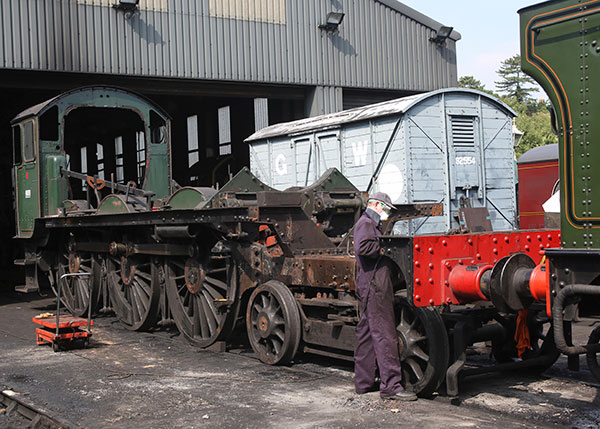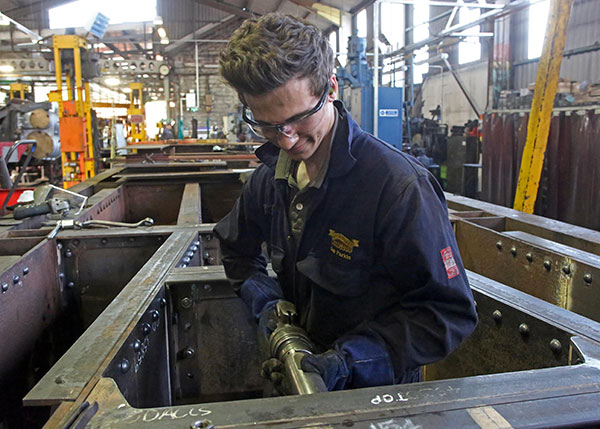 PHOTOS 4930 NEWS UPDATE
August 2016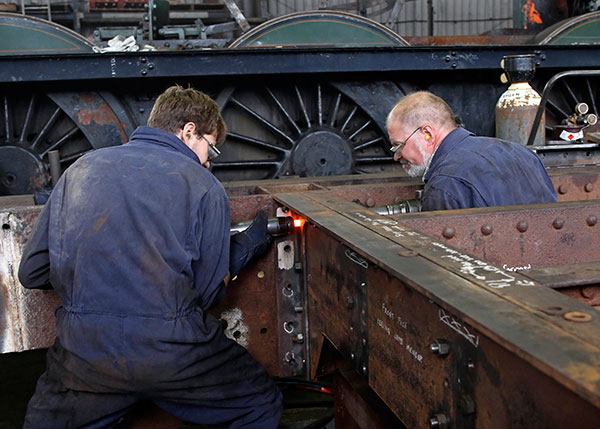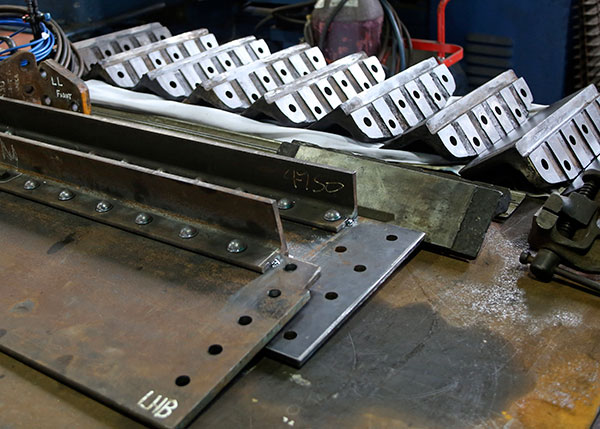 Recent weeks have witnessed much activity on 4930's restoration. Whilst volunteers have continued the tasks of cleaning, preparing and painting of stored tender components, workshop staff and apprentices are now riveting the new cross members to the tender frames, whilst the new backplates have been riveted to the existing tender steps. Following imminent refitting of the remaining new steelwork to the front of the tender chassis, attention can then turn to the rear end, where less renewal work will be necessary. Hornguides have also been milled ready for refitting.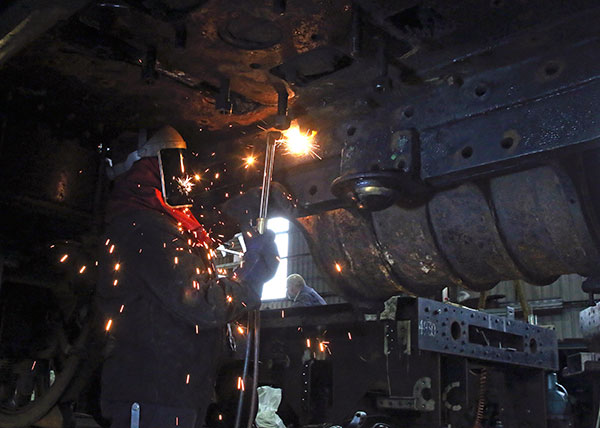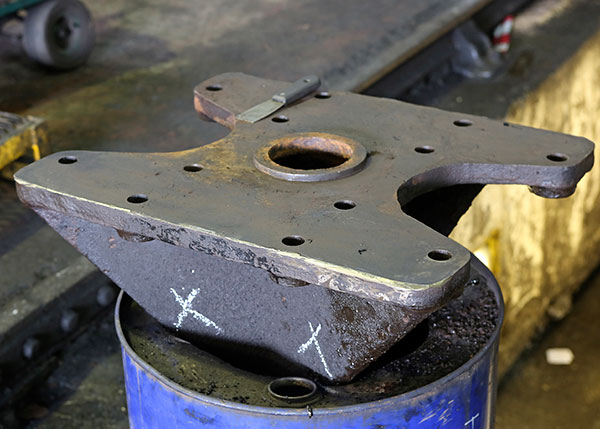 In our Spring update, we were somewhat over-optimistic in the amount of time it would take to remove the bolts attaching the cylinders to the frames. These were very corroded, and the positioning of the remaining bolts has made it extremely difficult to access them with appropriate power tools. Added to this was the realisation that removal of some bolts first required the removal of the front bogie pivot casting. Upon examination, it was discovered that this component had at some time in the past been welded to the frames, but after attention by a welding torch, the pivot casting was removed early this week.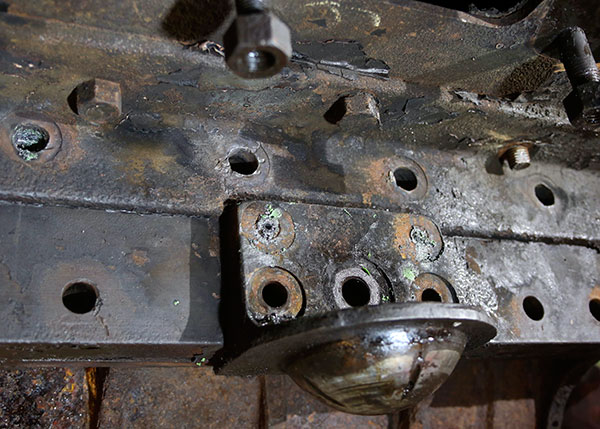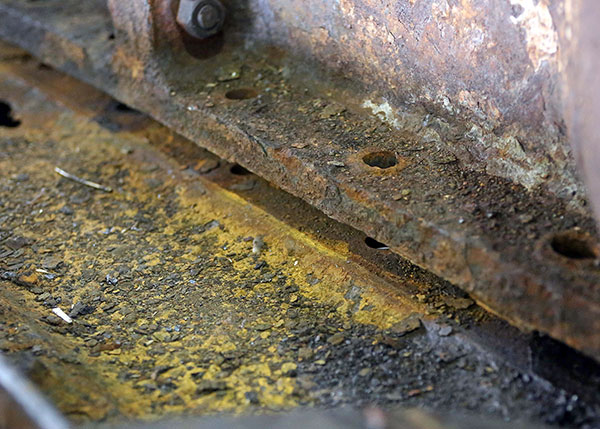 As a result of intensive effort by workshop staff including Ollie Huxley, Tony Pirie, Brian Humphries, and also the sterling work of Petal & Co, and at the culmination of a week of very difficult and problematic work, we are delighted to announce the final bolt holding the cylinder block to 4930's frames was finally removed late this afternoon. Jacking tests now confirm that the cylinder block is free, and ready for removal. Great work by all involved.
4930 working party dates July - September 2016
03 July 2016
The following dates are the next planned dates for working parties at Bridgnorth, open to any SVR member who has completed the volunteer induction course. (Please contact the Volunteer Liaison Officer if you wish to arrange to attend an induction).
Sunday 10th July
Sunday 17th July
Saturday 6th August
Saturday 20th August
Saturday 10th September
Sunday 18th September
Approximately 0930 - 1630, but even if you can spare just a few hours, it all helps. Martin White is the primary point of contact on site.
4930 News Update 01 Jun 2016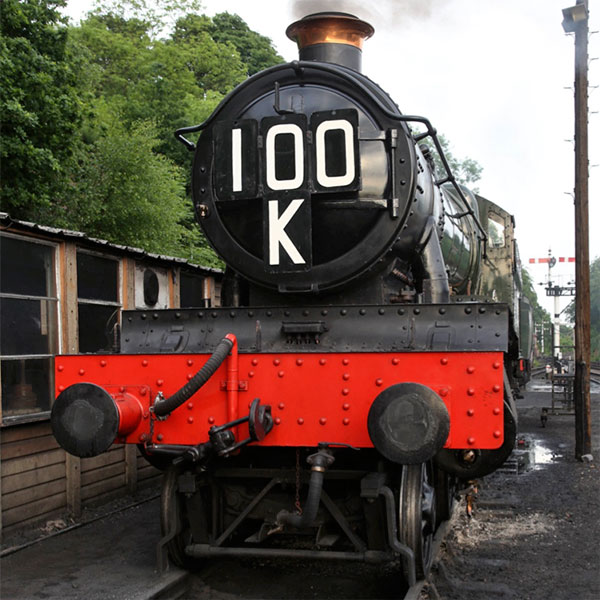 The Friends of Locomotive 4930 Hagley Hall are delighted to announce that the fund-raising in support of the restoration of the locomotive now exceeds £100,000. This milestone achievement has been made possible by a generous bequest from a long-standing supporter of the locomotive, and also from the continuing contributions from our loyal followers.
Fund-raising began in the late 1990s, with a view to raising the profile of the locomotive, and has continued through our Sales Stand, and by the support of regular donors.
Now that the restoration of the locomotive is under way at Bridgnorth Works, the Friends Group is in negotiations to make a sum available to cover some of the restoration costs already incurred. More details will be released over the coming months.
We continue to raise funds to cover the restoration and continuing maintenance of 4930 Hagley Hall, and welcome new members, and financial donations in support of this worthy cause. Please see the Membership page for details of how you can help.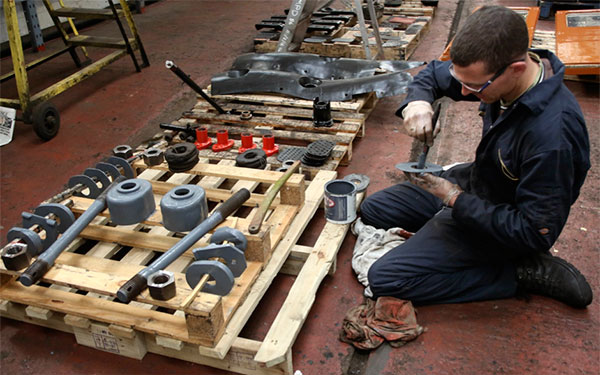 On 30 May, a work party at Bridgnorth continued the task of cleaning and painting components from the tender, in preparation for eventual refitting. There are many items which require such attention, and further work parties are planned for Sunday 12 June and Saturday 18 June. The opportunities to help are open to everyone, subject to being a current SVR Member, and having undertaken the Volunteer Induction Course. No particular engineering skills are required, but if you have any, then all the better. Work will take place roughly between 0930 and 1630. Even if you can only spare a couple of hours, it all helps. Most of this work is messy, so come prepared! Please contact us on GWR4930@yahoo.co.uk
4930 becomes an 0-6-0 (temporarily)!
27th April
In recent weeks, volunteer work has concentrated on attempting to remove a cylinder cover which refused to budge. This was eventually successful. The arrival of "the heavy gang" today has seen another major burst of activity. Using the wheel drop facility, the front bogie has been removed, temporarily converting 4930 into an 0-6-0. This operation was performed in order to gain access to the underside of the cylinder block, and to release the bolts attaching the block to the main frames. During the course of the weekend, it is hoped that the majority, if not all, the bolts will have been released, bringing the task of removing the cylinder block much closer to fruition. At the end of the weekend work, the front bogie will be reinstated on the locomotive, to allow movement within the works. Our grateful thanks to all who have taken part in this weekend's work.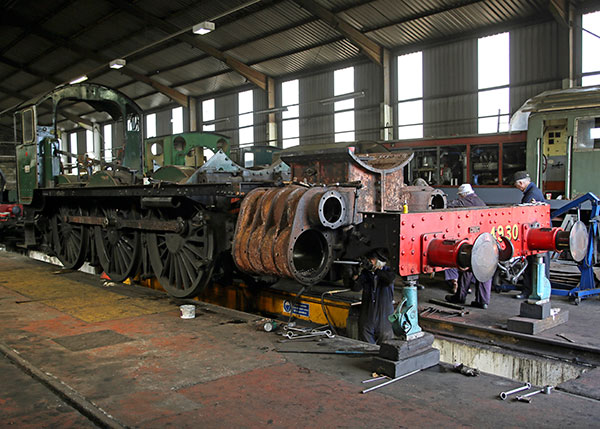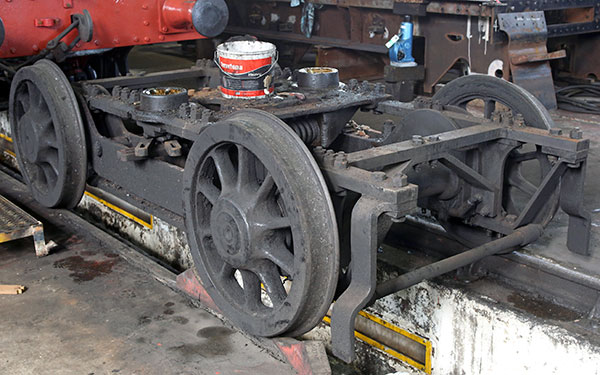 Update 29th February 2016
During the past month, volunteer working parties have removed the remaining piston and valve, and have also detached both crossheads and one of the slidebars. Work is now in progress to remove the heavily corroded bolts on the cylinder block.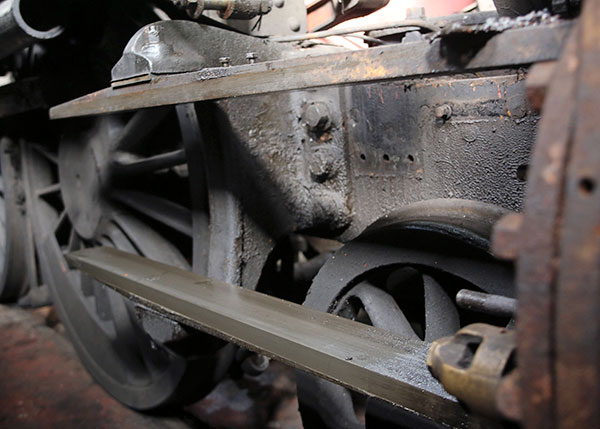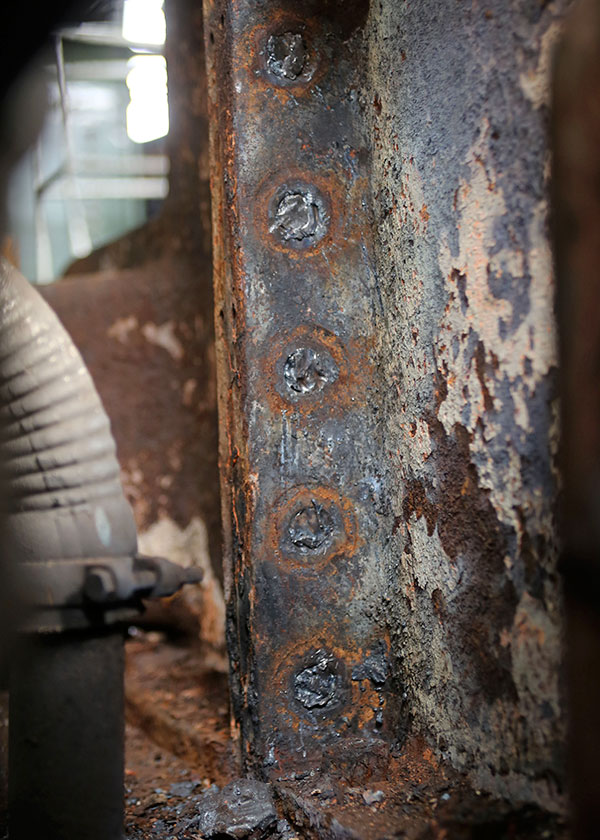 News Update - 25th January 2016
Last week's work party succeeded in removing one of the pistons and valves from 4930.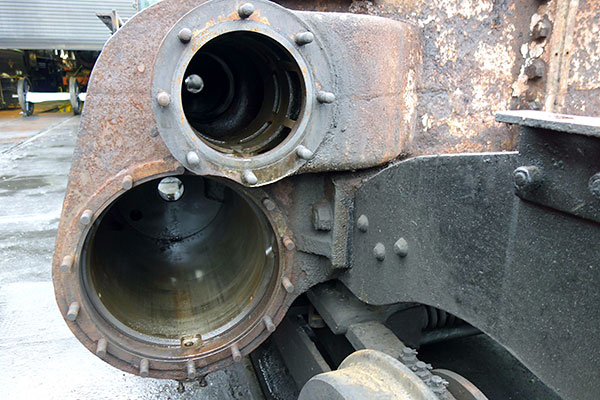 Also, apart from a lick of paint, work on the third tender wheelset is now complete.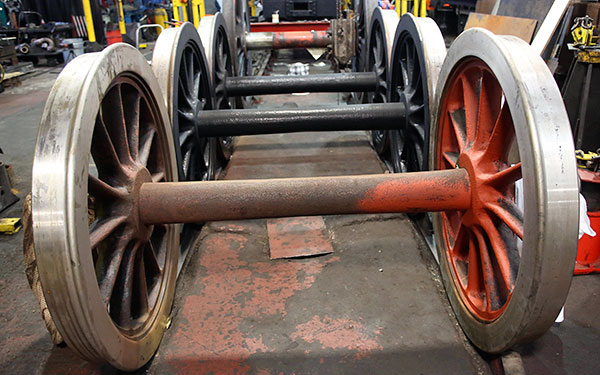 News update 14th January 2016
Of necessity, the main focus at Bridgnorth Works during November and through to the present, has been the need to maintain the operational fleet for the busy Christmas period, and to carry out pre-planned maintenance during the Winter 'closed' weeks in preparation for the new season. Despite these demands on workshop staff, volunteers have continued work on 4930, firstly by pressure cleaning the frames, and subsequently removing valve covers and releasing the valves and valve spindle rods. Front cylinder covers are now removed, and the cotter wedge has been taken out of the crosshead. Work continues on splitting the piston rods from the crossheads, and descaling the cylinder block.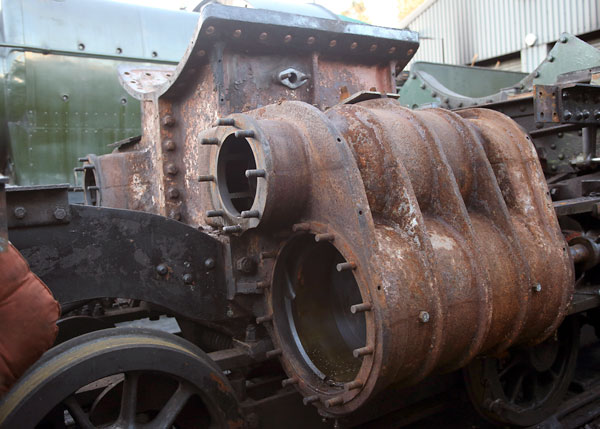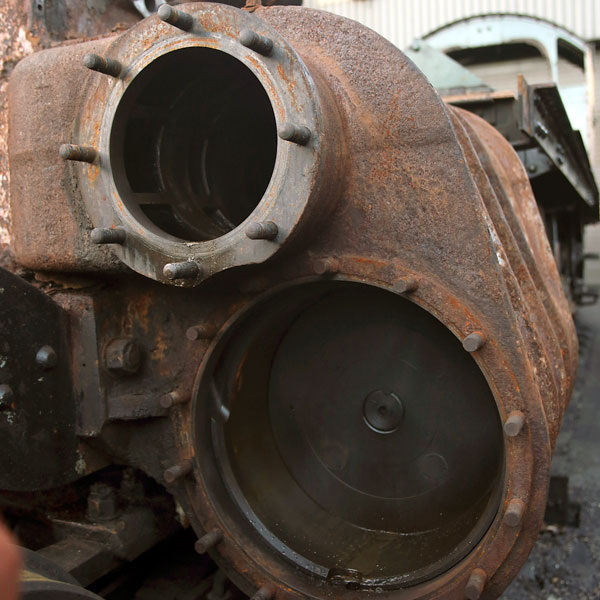 Meanwhile, in the Machine Shop, the final wheelset for the tender has now been machined, including the journals, which were just being completed when pictured on 7th Jan.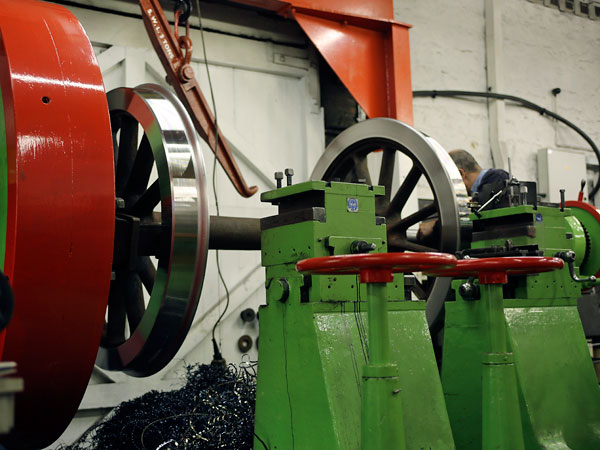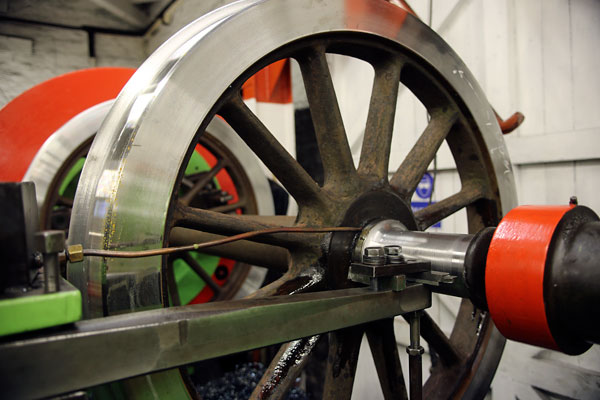 News Update 27 Sep 2015
During the last few weeks, work has continued at a steady pace on refurbishing the tender frames. The longitudinal beams at the front end have now been replaced by new steelwork, and when this is completed, attention will shift to similar work at the rear of the framework.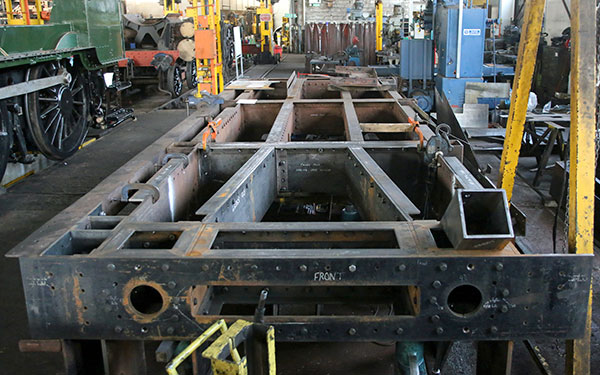 On 17th September, HRH Duke of Gloucester visited the SVR Bridgnorth Works, during which, Brian Humphries and apprentice Dean Parsons, who were working on 4930's tender frames, were introduced to him.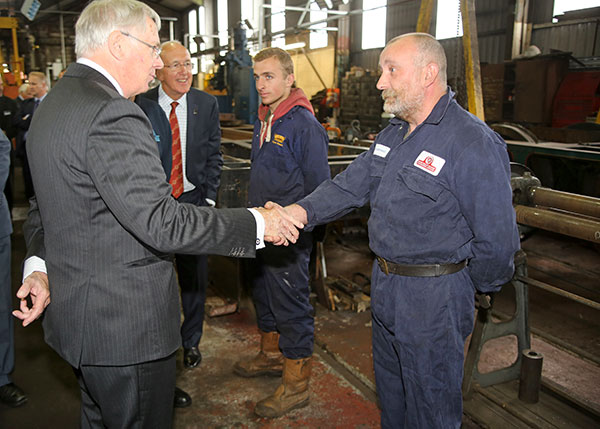 The Duke then went on to examine 4930's cylinder block, and cabside plating.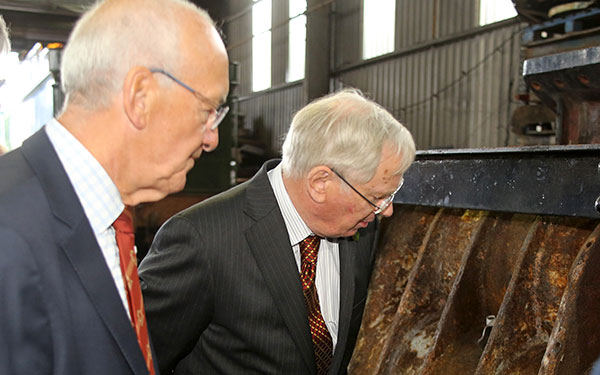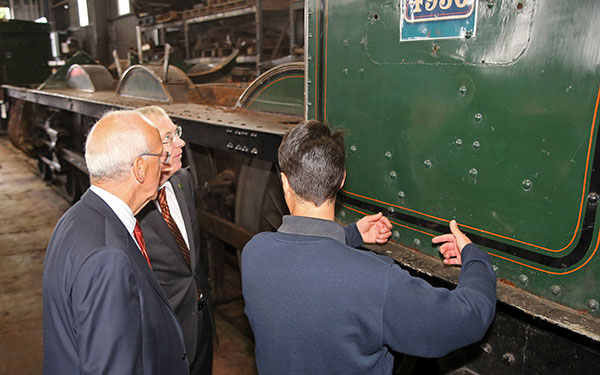 On 26th September, we were very pleased to receive further practical assistance from five enthusiastic members of the SVR Junior Club. Fully kitted out in overalls and PPE, they set to work under supervision, scraping accumulated dirt, grease, and general gunge from the running plates of 4930. This helps enormously in the task of cleaning components for eventual replacement on the loco, as well as providing the youngsters with practical work experience and knowledge of steam locomotive parts. We, and also they, are already looking forward to their next visit!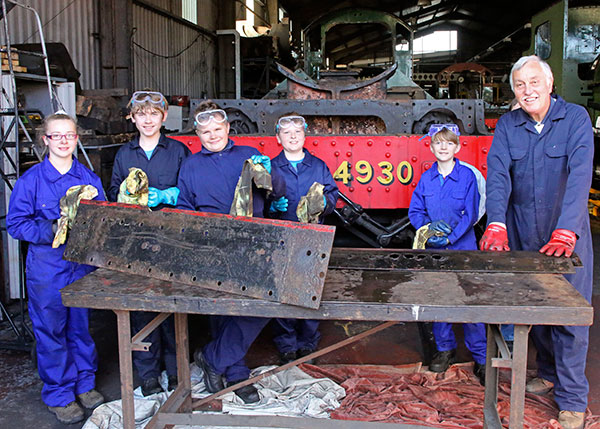 News Update 15th Aug 2015
Yet more parts have been removed from 4930 by 'Petal & Co.' as their working week draws to a close. Over the past few days, they have removed all the running plates from the front end of the locomotive. Our thanks go to the team once again, for all the work they have done.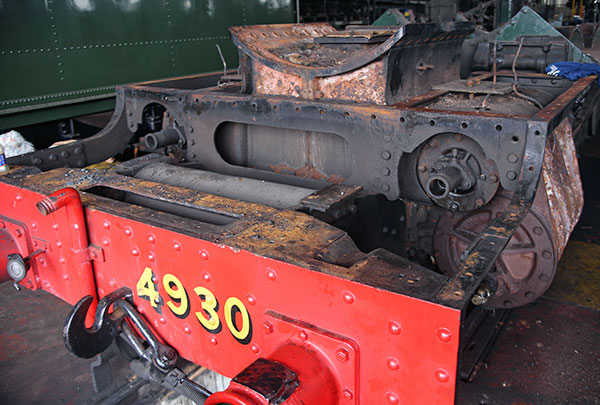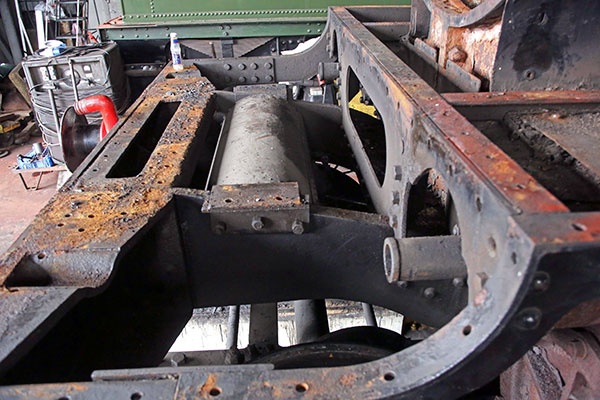 Meanwhile, in the Machine Shop, work has started on the tender bearings: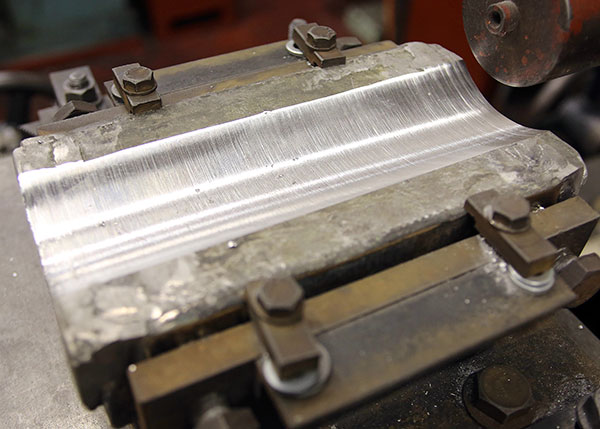 4930 News Update 11th Aug 2015
The last two weeks have witnessed remarkable progress in the locomotive overhaul. During the weekend of August 01/02, a working party of volunteers set to work on the unenviable task of removing the boiler and cylinder cladding plates, followed by the removal and disposal of the boiler lagging. Whilst the lagging material had no asbestos content, its removal was an unpleasant task which required full protective gear, as these three photographs by Nick Willcox show: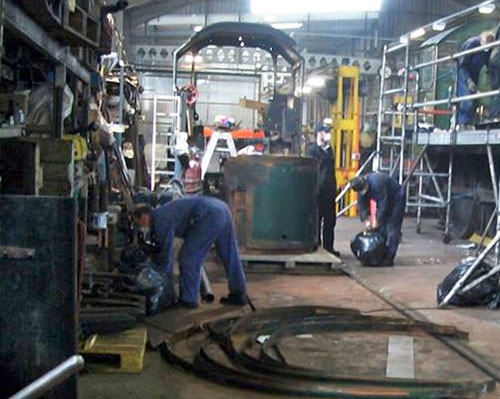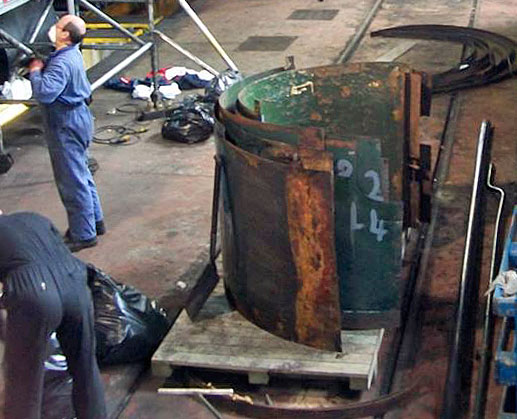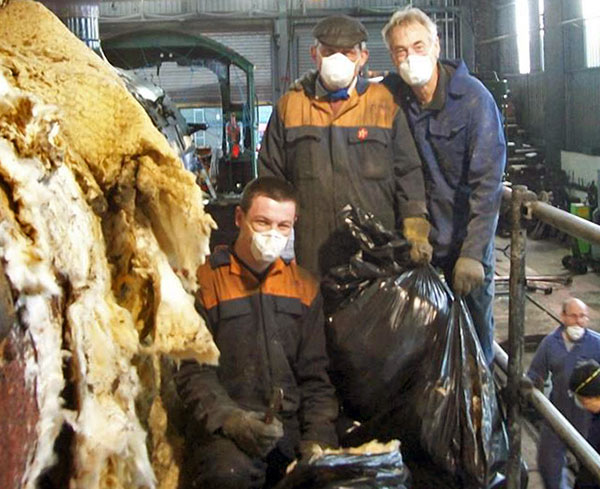 Following this bout of activity, other volunteers continued with part removal during the week, and on Saturday, the Heavy Gang, aka 'Petal & Co' arrived to undertake some of the more difficult tasks. They removed washout plugs on lower firebox, the steam heat pipe and brackets from under the ashpan, blowdown valve, and the damper linkages.
As a result of this work, 4930 was considered ready for the boiler to be lifted off the frames in an operation on 11 August.
Firstly, the cab roof was temporarily removed from 4930 in order to allow lifting capability for the overhead crane within the boiler shop. Bolts in the cab roof had already been removed on the previous day. 4930 was then taken from the works yard by Class 08 Shunter D3586, around to the Boiler Shop for the long awaited lift to take place.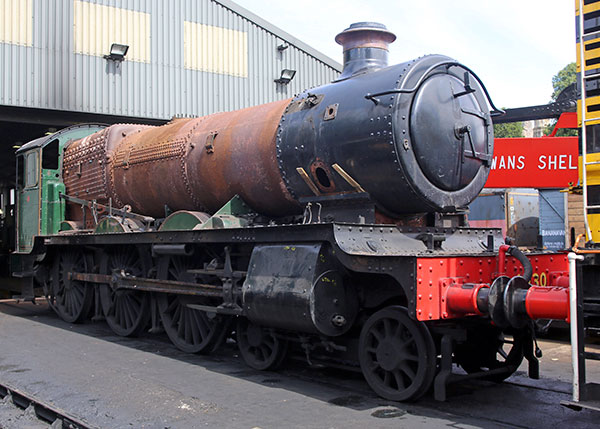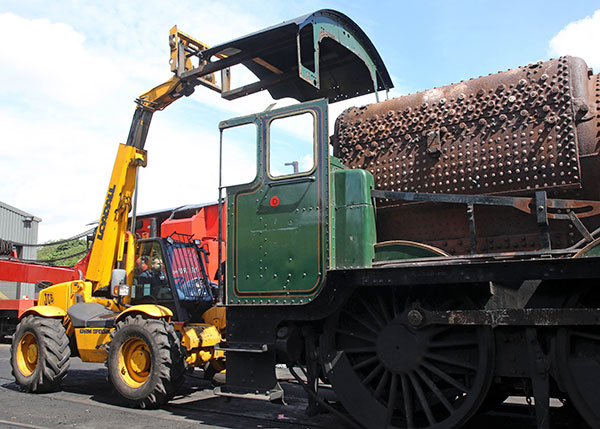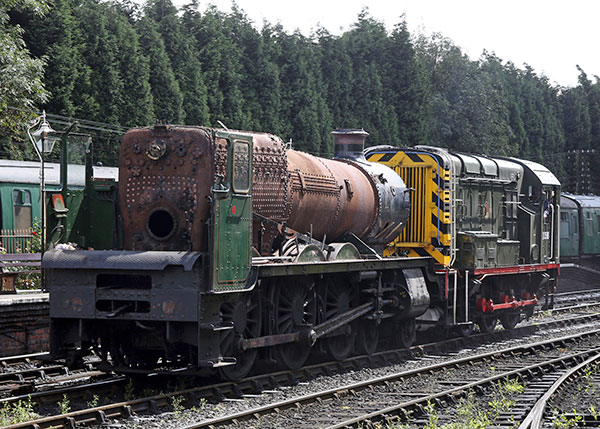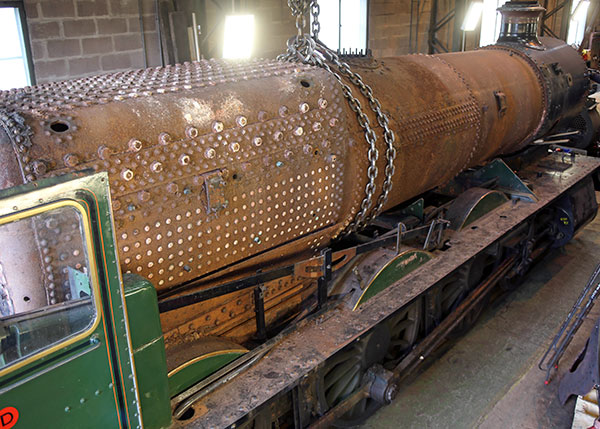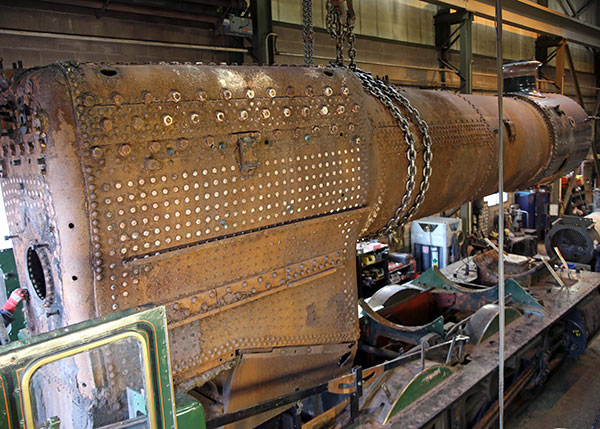 Finally, the ashpan was removed. 4930 was then replaced in the Works Yard, where the intrepid team of Petal & Co will continue on parts removal during the next few days. A momentous week in the project.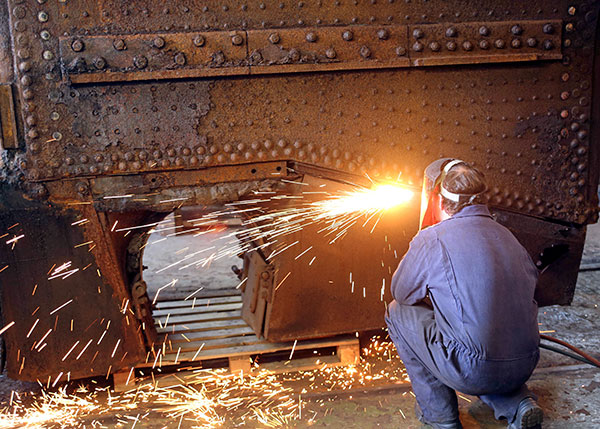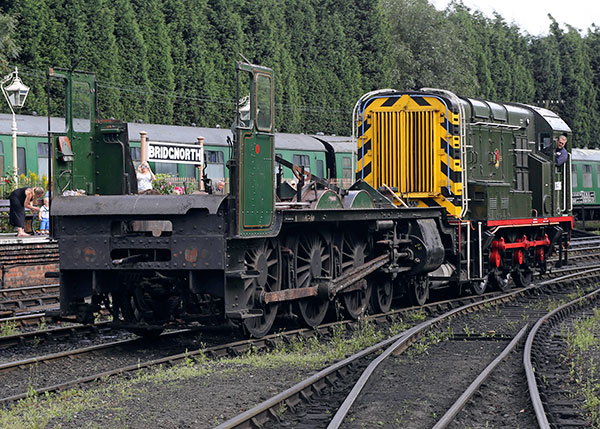 Our thanks go to all those involved.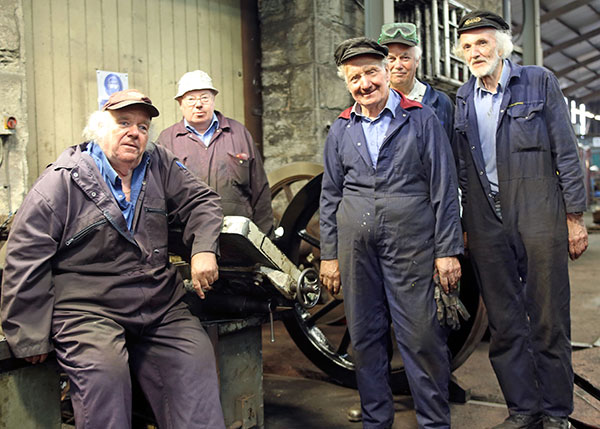 July 2015
25th July
We are delighted to announce that major preparation work on the locomotive has just begun, with the removal of boiler cladding bands, and back head cladding. The intention is now to remove all boiler cladding and lagging from 4930 shortly. When this has been successfully completed, a work group will remove other components, prior to a boiler lift, which it is hoped will take place during August.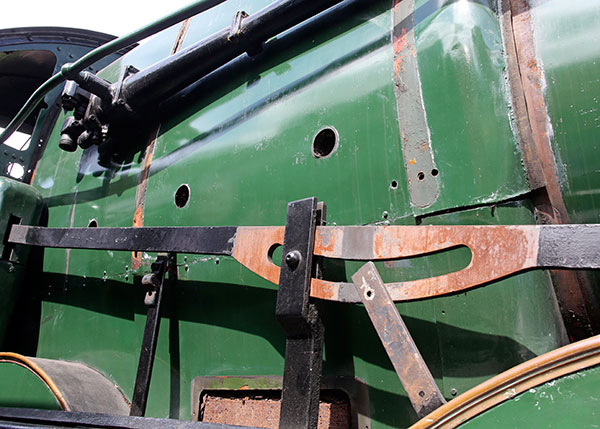 On other fronts, the second tender wheelset has now visited the wheel lathe, leaving only one remaining to be profiled.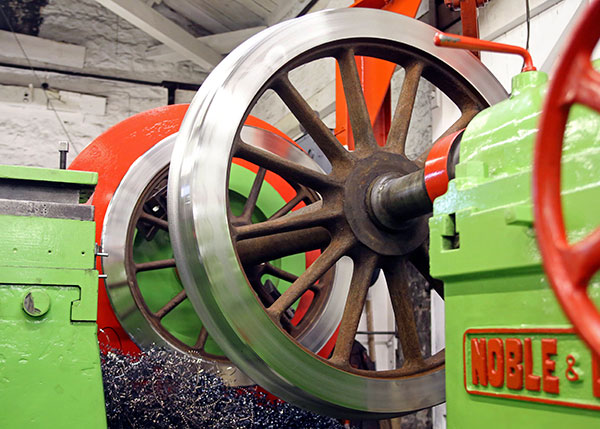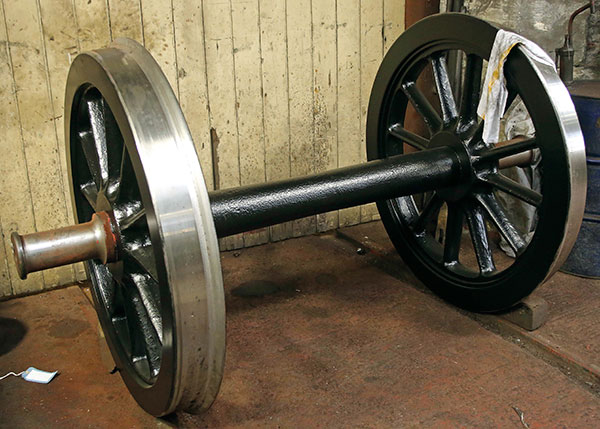 The recent tender frame front end welding has been ultrasonically tested. Work is now continuing on cross members, and other tender frame components, including the steps.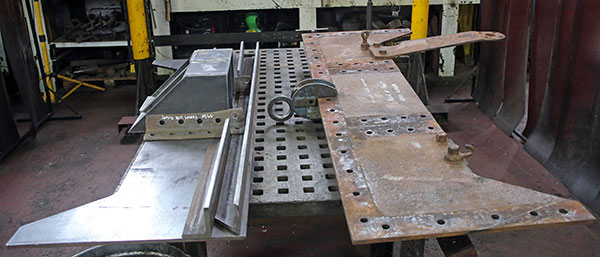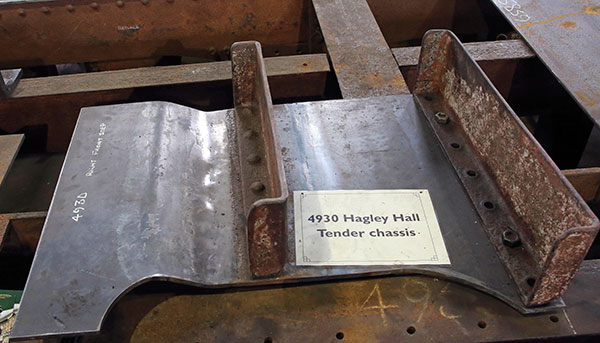 We are also very pleased to report that the new tender tank has been completed at Adam Dalgleish Engineering, and a coat of red oxide paint has been applied for protection. It is now in temporary storage until the refurbished tender frames are ready to receive it.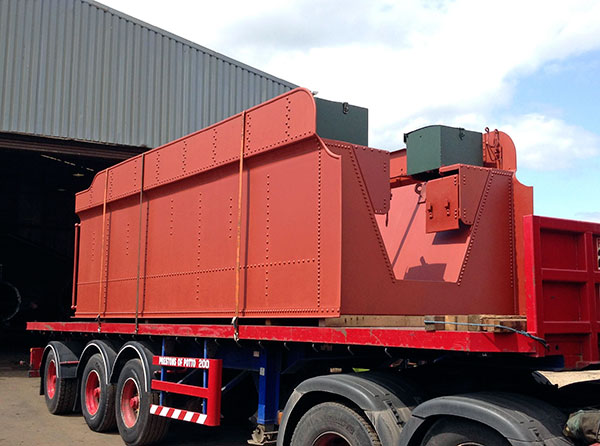 6th July
SVR 50th Anniversary line-up at Bridgnorth
The 50th Anniversary of the Severn Valley Railway was marked by a line-up of locomotives at Bridgnorth. Adorned with a Severn Valley Golden Jubilee headboard, this will probably mark the last occasion in which 4930 will feature in an official event before its imminent major overhaul.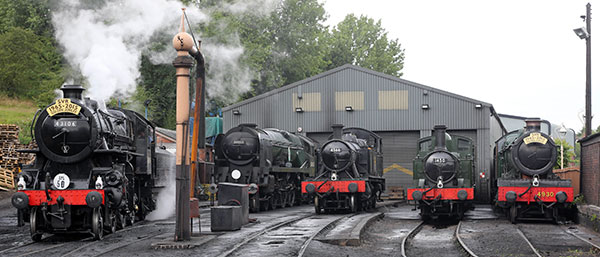 9th July
It is now understood that the long-awaited restoration of the locomotive will begin in earnest within the next few weeks. Removal of components has already started. Boiler cladding will be removed shortly, prior to an anticipated boiler lift later in the year.

Today, 4930 was seen in the yard at Bridgnorth, paired with the immaculately restored lined black tender for 75069. If we were closer to April 1st, we could start a rumour!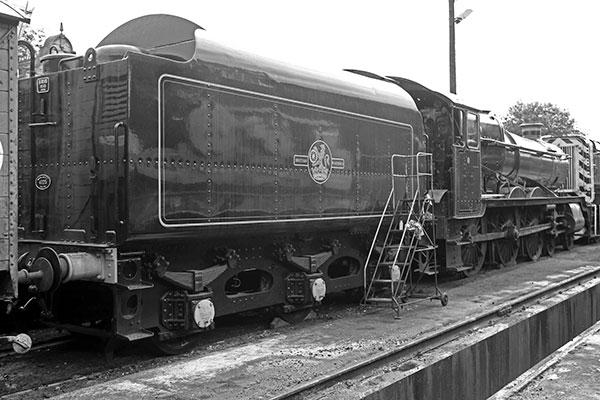 The refurbishment of 4930's tender chassis took a major step forward today, as the new front-end frame sections, including the new drawbar, were welded to the original sections. Some further work is required to replace some other small sections of wasted metalwork, but today's activity marks a notable milestone in the restoration project, which can now move forward towards the expected arrival of the new tender tank in due course.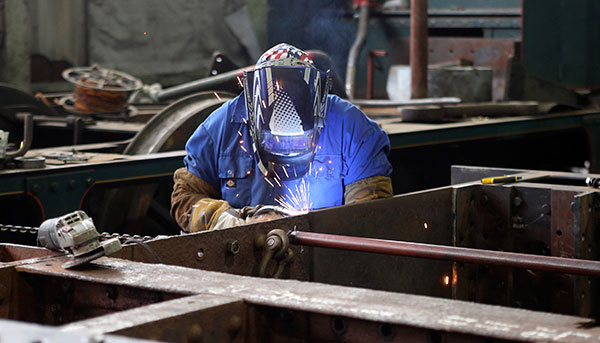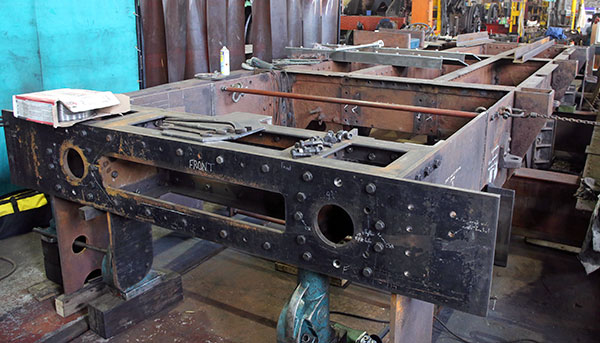 Further pictures of the almost completed new tender tank for 4930 at Adam Dalgleish Engineering at Stockton, courtesy of Ian Walker. It will not be completed until it comes to site at Bridgnorth when the sump will be fitted. This allows easy storage and transportation.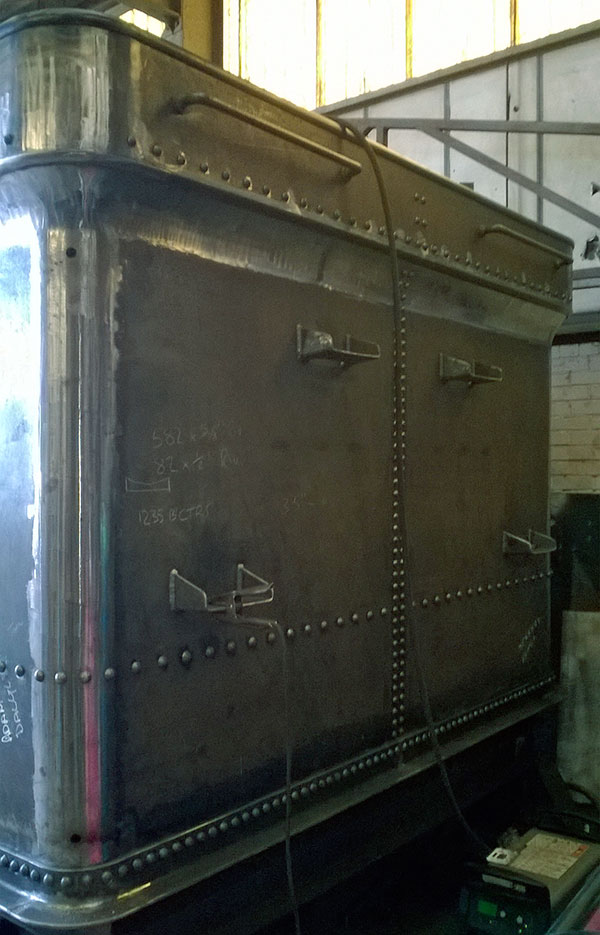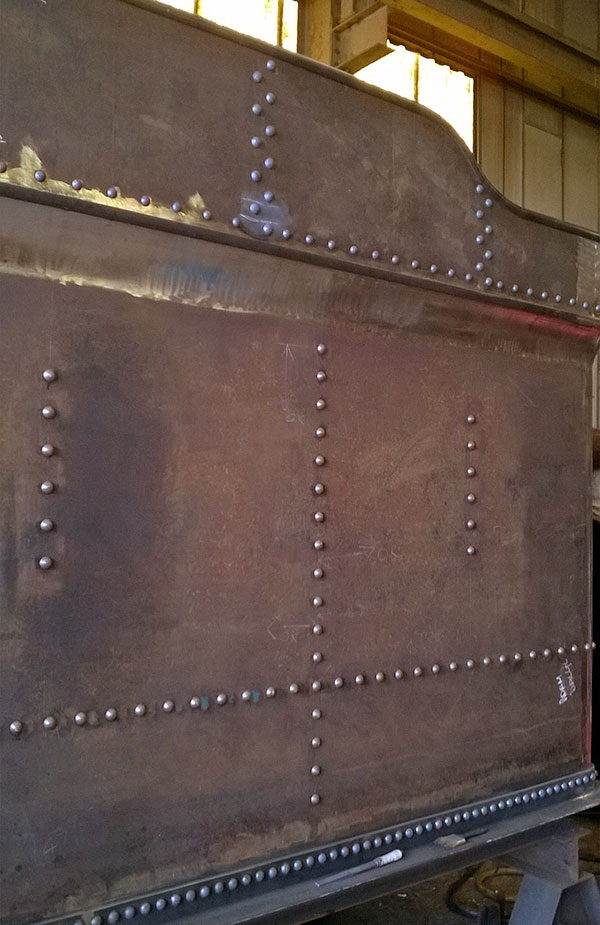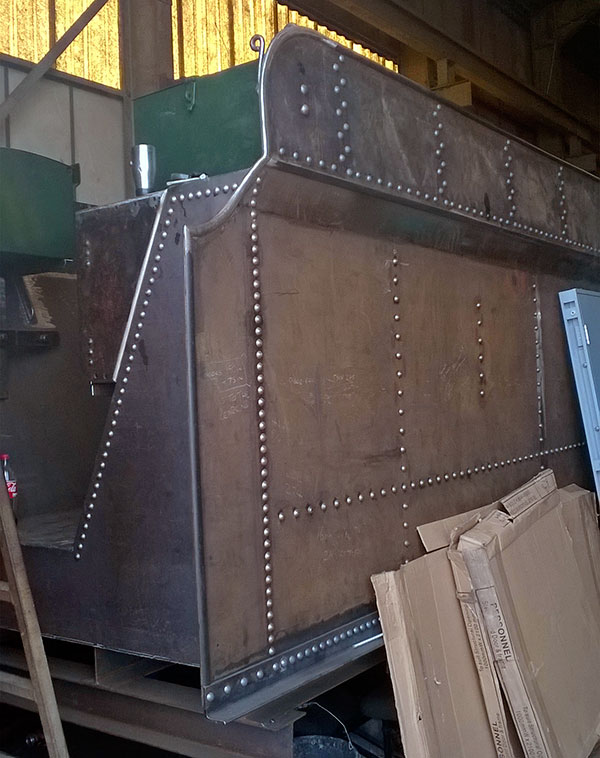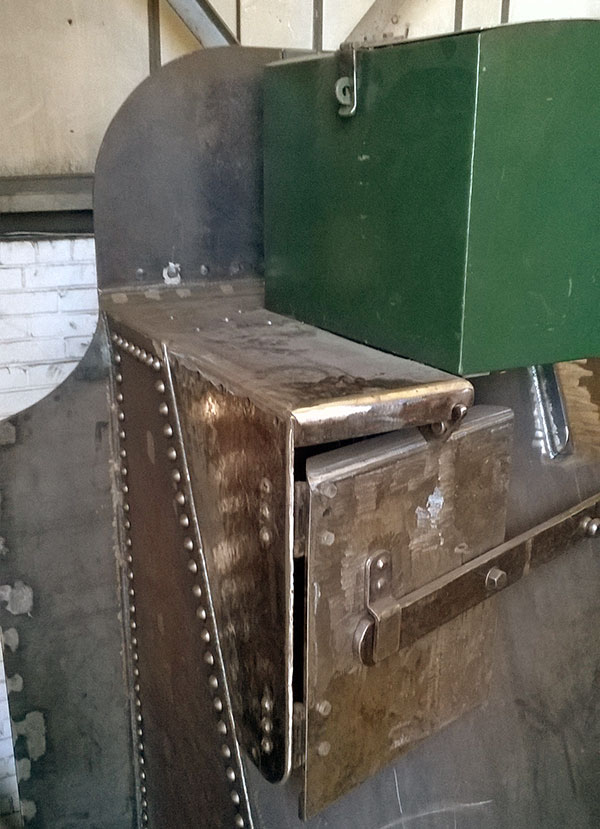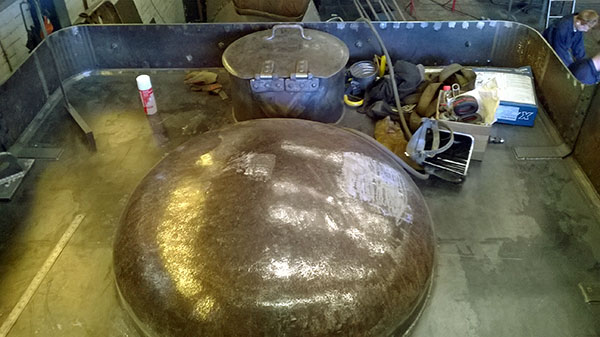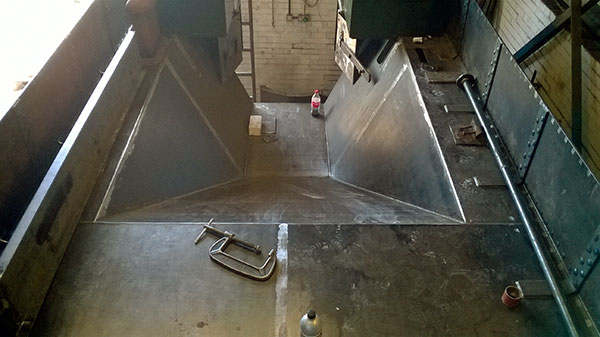 June 2015 Update
17 June 2015
We are pleased to report that the tender wheelsets for 4930 are now entering the machine shop at Bridgnorth Works for profiling. Work on the first set began on 17 June, with the others to follow in sequence. Meanwhile, the finishing touches are now being made to the new tender tank at Adam Dalgleish Engineering at Stockton.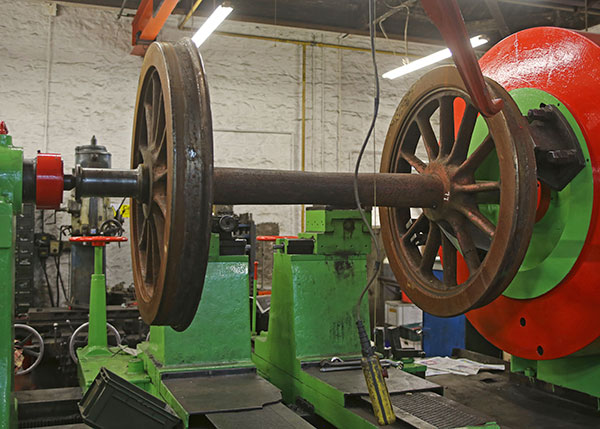 March 2015 Update
31st March 2015
Tender Progress
Work on the new tender tank for 4930 has been continuing at Adam Dalgleish Engineering at Stockton. These recent views show the progress made in recent weeks.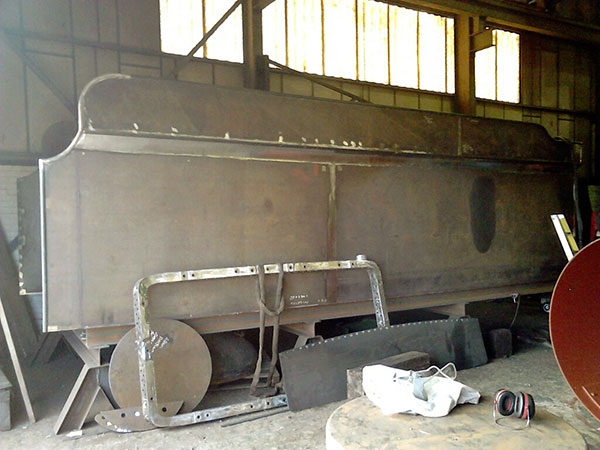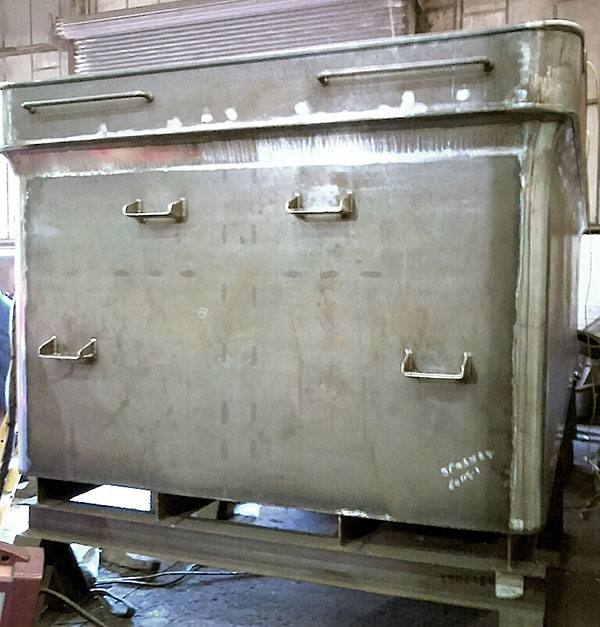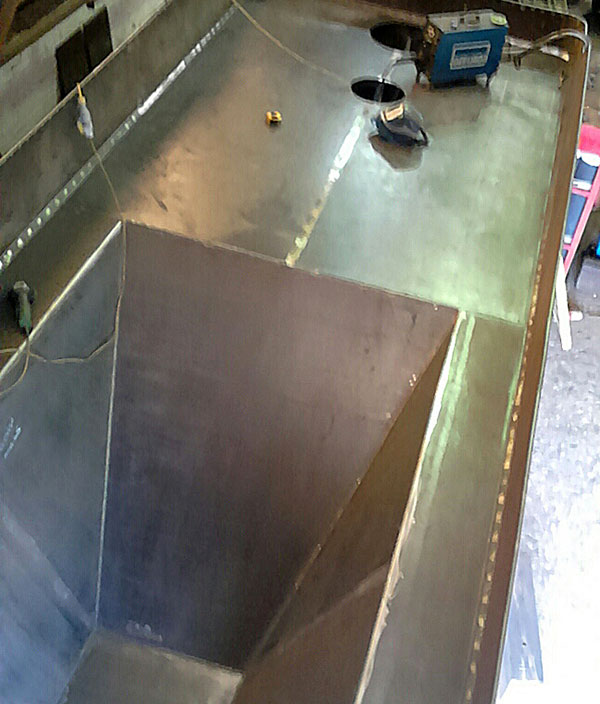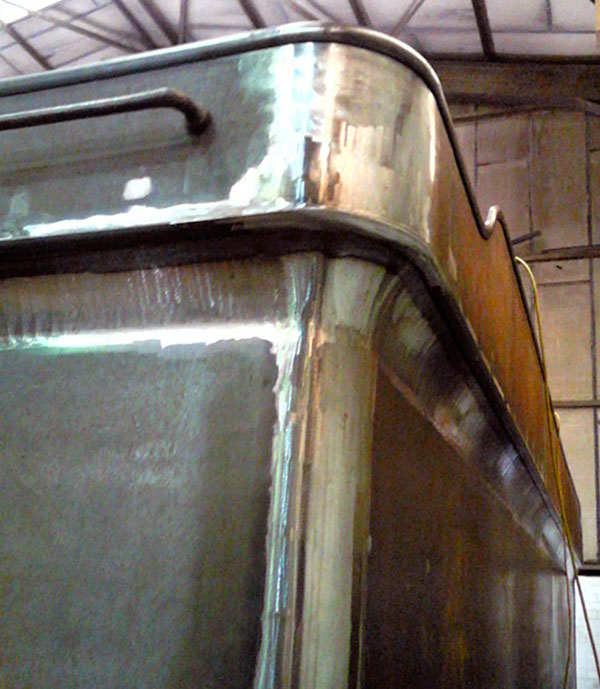 To summarise recent developments, all internal baffles fitted and welded, tank sides and extension fitted and welded, rear floor plate being welded this week, new beading fitted (this was sourced from a local rolling mill with tooling made to match a sample of the original). Coal space back plate to have new beading bent and fitted this week.
The next big job will be the fitting of the 'false' rivets to ensure that the tender is cosmetically correct !
February 2015 News Update
27 Feb 2015
Work on the new tender tank for 4930 "Hagley Hall" has been proceeding rapidly at Stockton, and, as can be seen in the accompanying photos, the majority of the main structure is now complete. Our thanks go to Adam Dalgleish Engineering for the photographs.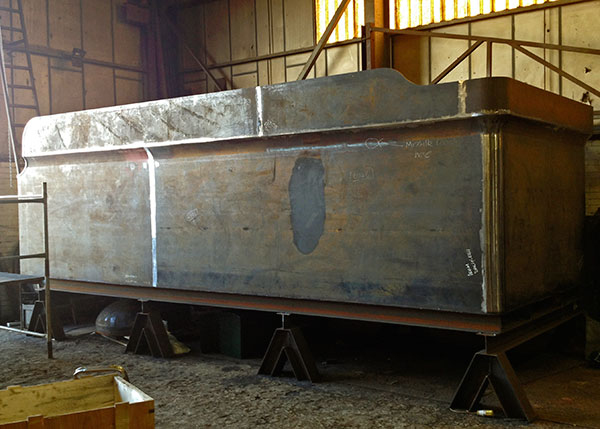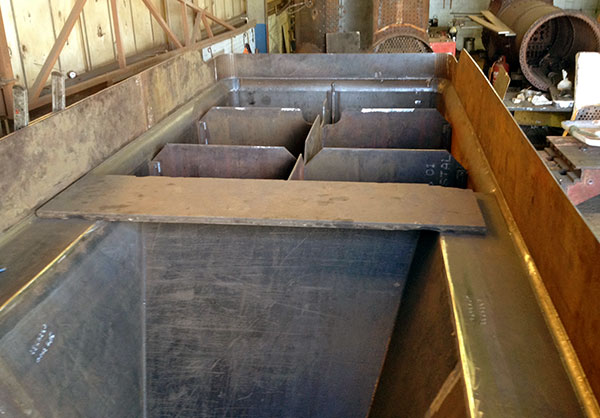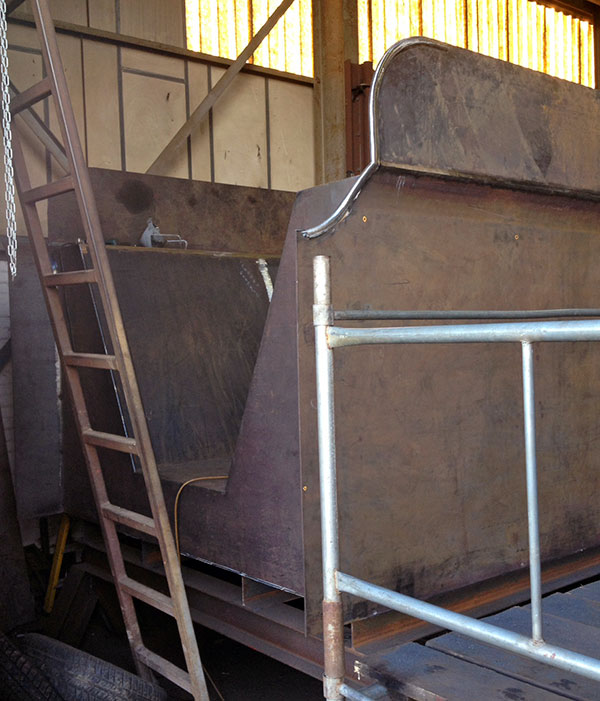 January 2015 News Update
11 January 2015
A positive start to 2015. Early January has seen lots of progress on the wheelsets for 4930's tender. As we reported earlier, the wheels are at South Devon Railway Engineering for re-tyring, and we are delighted to report that the first set (the trailing axle) was re-tyred at Buckfastleigh on Thursday 8th Jan, followed by another set on the following day. All three axles should be complete within the next couple of days. These are the first major components to be renovated as part of the 4930 restoration programme.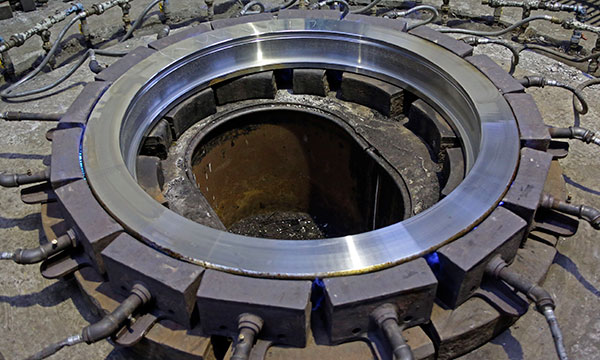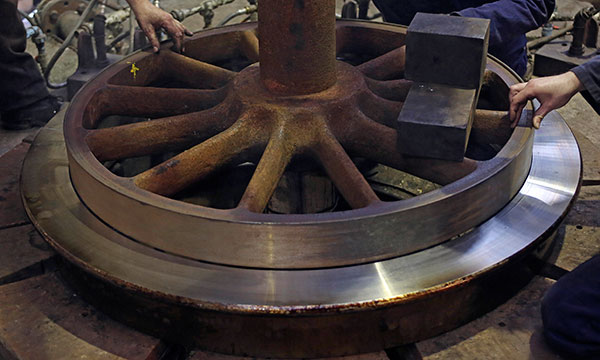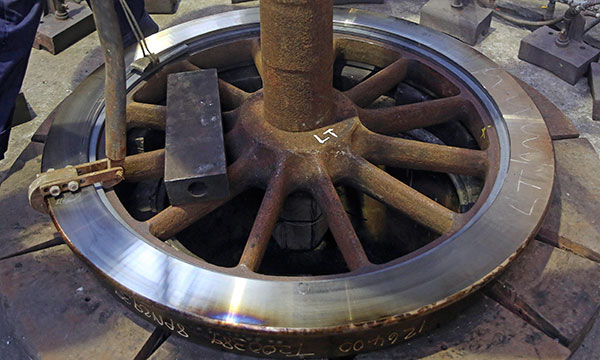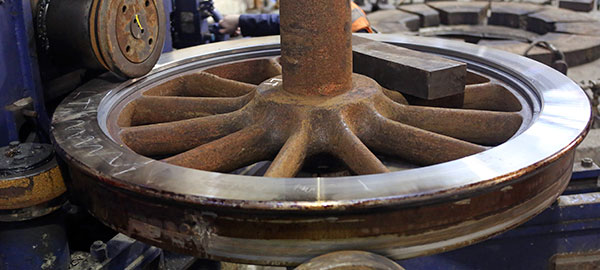 December 2014 News Updates
21st December 2014
Following our recent news from the North East of England that work has begun on construction of our new tender tank, further good news has now been received from the South West. 4930's tender wheels are currently at South Devon Railway Engineering at Buckfastleigh for re-tyring. As the following photos show, the new tyres have just been delivered, and fitting to our wheelsets will take place early in the new year.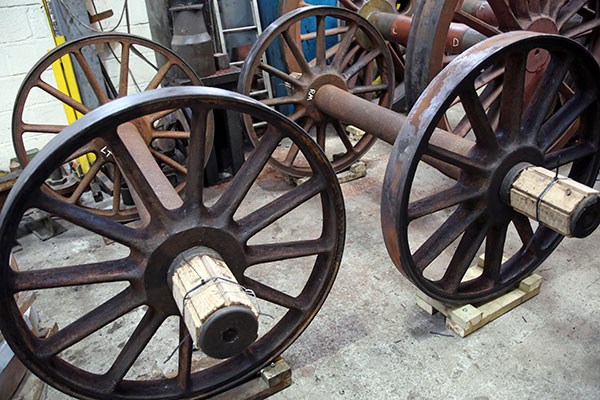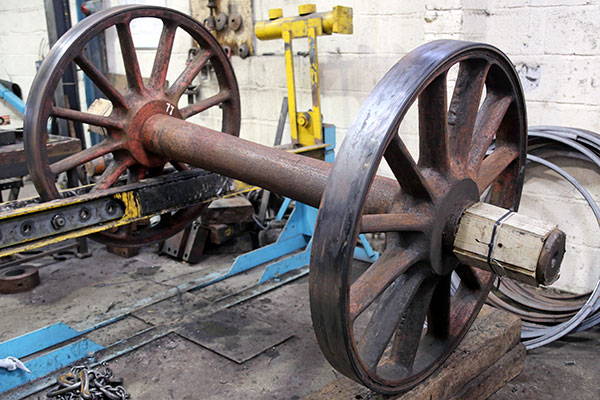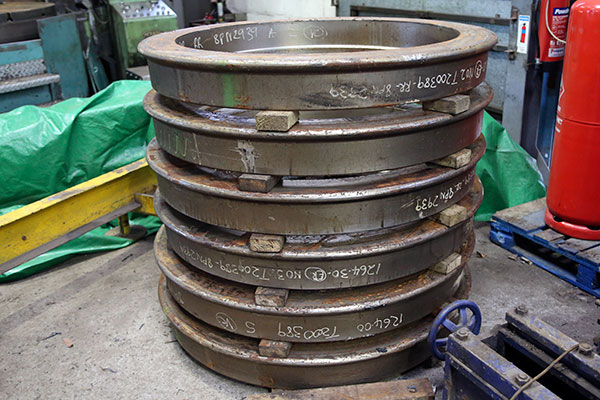 On 21 December 2014, committee members were at Arley Station to run the Christmas 'Roast Chestnut' stall, which annually boosts our funds for 4930's restoration. The weather was kind to us, and a good day was enjoyed, although trying to extract money from some staff became somewhat of a challenge...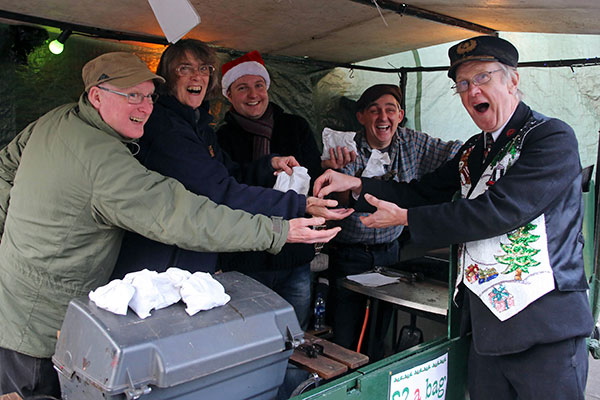 As Christmas and the New Year approach, the Committee of the Friends of Locomotive 4930 would like to wish all their supporters and friends the compliments of the season, and look forward to your continuing interest in the locomotive's restoration during 2015. Hopefully, the New Year will bring more significant milestones as we move towards 4930's return to service.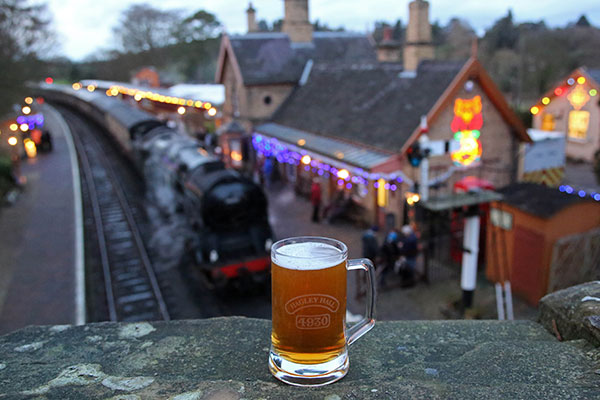 The latest addition to our Sales items may even help to celebrate the New Year. We now have 4930 Hagley Hall tankards available in support of our fundraising. Wishing you a Happy Christmas, and Best Wishes for 2015.
December 2014 News Updates
18 December 2014
Work has continued at Bridgnorth, preparing components for welding to the tender chassis. In our last update, the new dragbox was shown in position at the front of the tender chassis, but this has now returned to the workbench, where apprentice Max Greene has been busy finishing the structure, and drilling the necessary holes in it.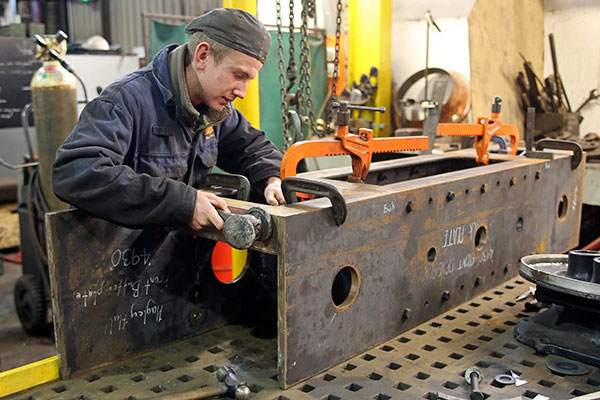 Meanwhile, the new frame plates have now been temporarily welded in position ready for the impending permanent welding session.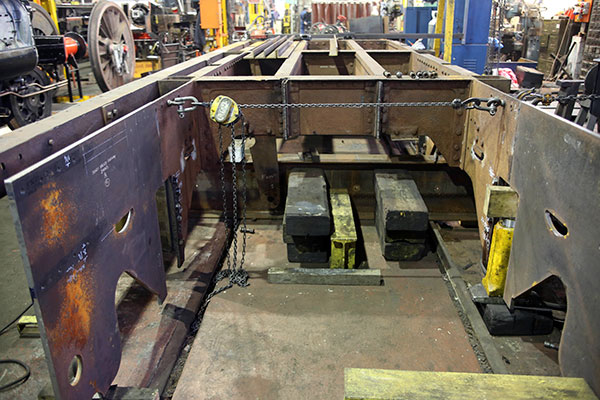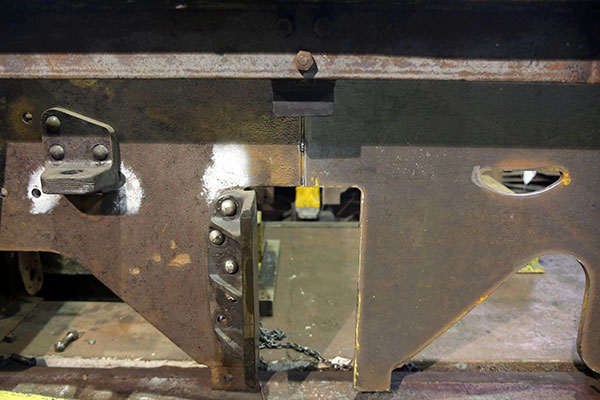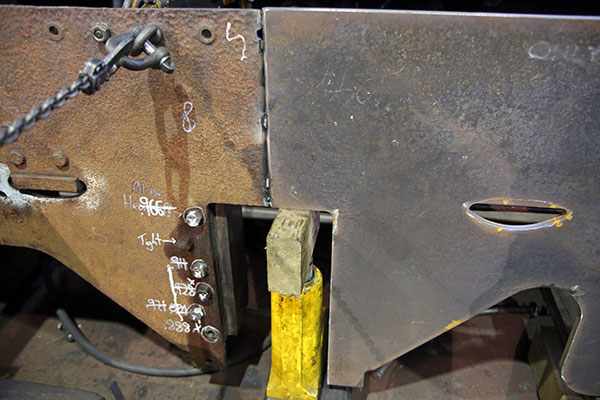 Further good news has now arrived from Adam Dalgleish Engineering Ltd., of Stockton who are constructing the new Collett-style tender tank for 4930. Following many weeks work on the technical drawings, fabrication of the steelwork has now begun, as the following photographs show.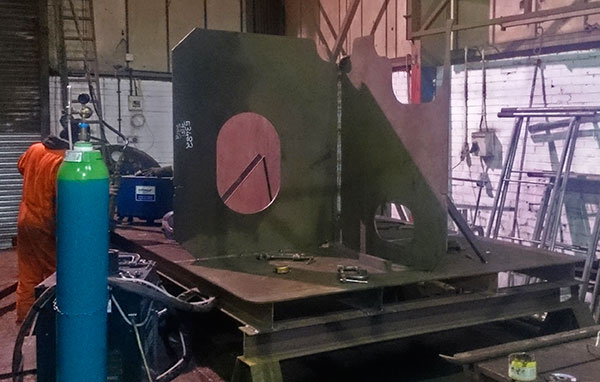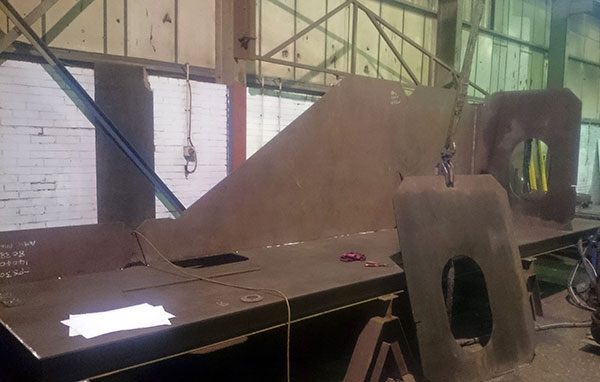 Our thanks to Adam Dalgleish Engineering Ltd., for the photos of work in progress.
November 2014 News Updates
17 November 2014
The newly fabricated replacement dragbox for 4930's tender is now complete, and has been placed in position for imminent welding to the frames. Work on the new front end frame plates is now well advanced.
Volunteers have also removed the locomotive's smoke box fittings.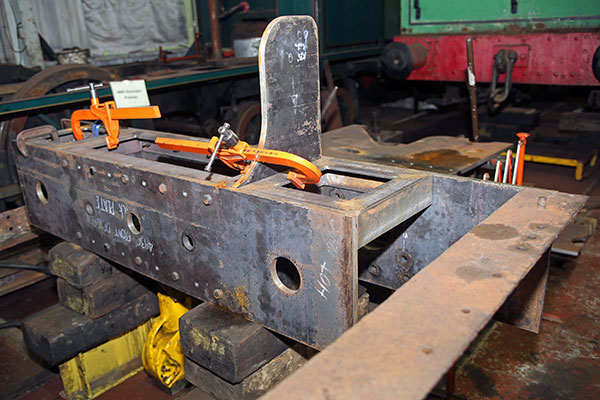 October 2014 News Updates
19 October 2014
WHAT A DIFFERENCE A WEEK MAKES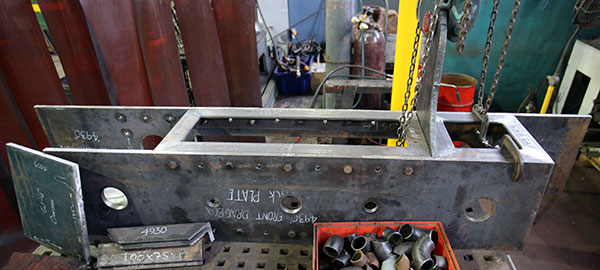 Our last update showed the component steelwork for 4930's new tender dragbox having just arrived. Rapid progress by the Bridgnorth Works staff during the last week now shows that the fabrication of the dragbox is well under way, and completion will result in another milestone in the restoration project.
15 October 2014
Continuing the recent excellent progress on 4930's tender at Bridgnorth Works, other component items of new steelwork have arrived in readiness for welding to the chassis, and the existing steelwork has been carefully prepared to accept the new sections.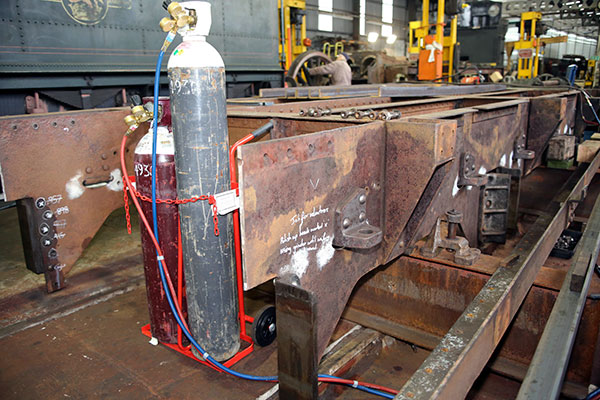 The new drag box rear plate is on site...

...together with the new front buffer plate.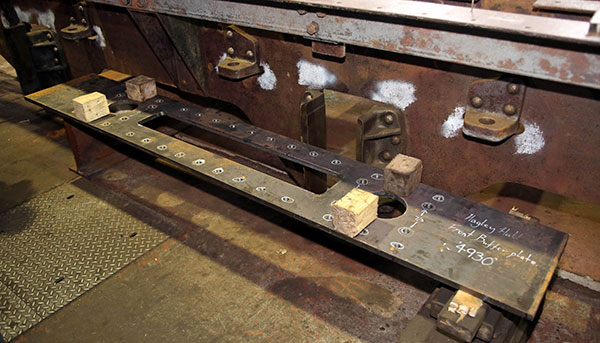 Now that all the tubes have been removed from 4930's boiler, the front tubeplate is now fully visible.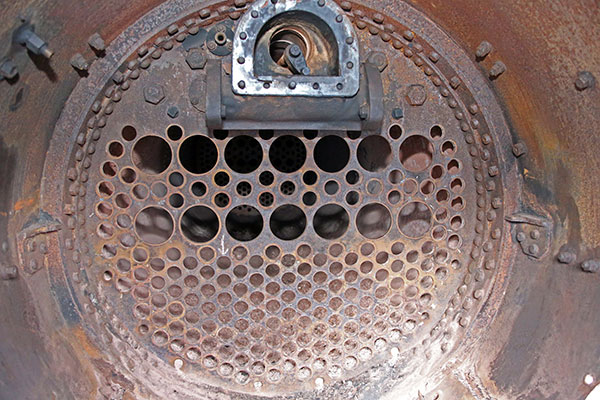 On Saturday 11th October, volunteers were joined by six enthusiastic members of the SVR Junior Club, who ably assisted in cleaning years of accumulated 'gunge' from the tender axlebox covers, and spring hangers.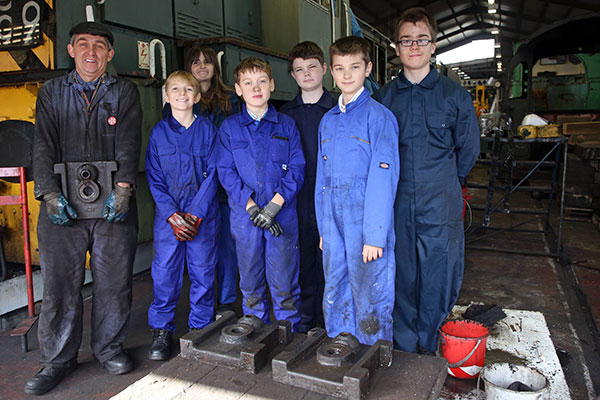 We were delighted to see these young assistants who came along for the day. Under careful supervision, they were able to gain a useful understanding of the components on which they were working. Our thanks to the Junior Club for joining us. There is plenty more work to be done, so please come back whenever you wish!
September 2014 News Updates
25th September 2014
New front frame steel plates have now been delivered to Bridgnorth for the refurbishment of 4930's tender chassis, which has now been shot-blasted to allow further detailed examination of its structure. Other steel plates have been found to be in need of attention, and these will also be replaced during the restoration project.
It is also confirmed that the tender wheelsets, currently at the South Devon Railway for attention, are to have new tyres fitted to ensure that the "new" tender is of the highest possible standard when complete, and fit for many years of future service.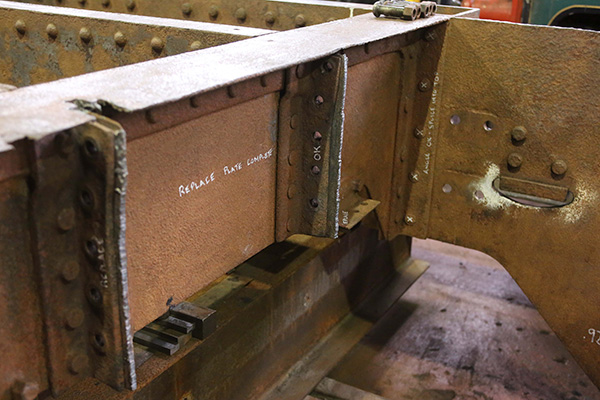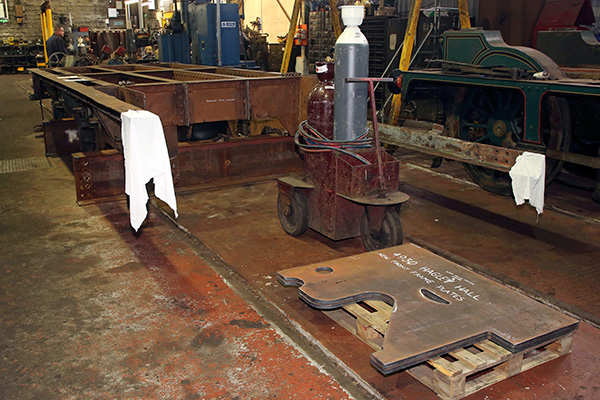 4th September 2014
Good progress continues on both locomotive and tender. The locomotive has had the header, blastpipe, and remaining steampipe removed, together with all flue tubes and many of the remaining small tubes. The saddle bolts have also been removed.
Tender wheelsets, removed during the lift on 9th July, have now gone to the South Devon Railway for attention. Meanwhile, following an assessment of the condition of the steel plate on the tender chassis, the front section including the dragbox and front stretcher bar have been cut away at Bridgnorth, and will be replaced by new steelwork.
Some of the steelwork wastage is evident in the photographs.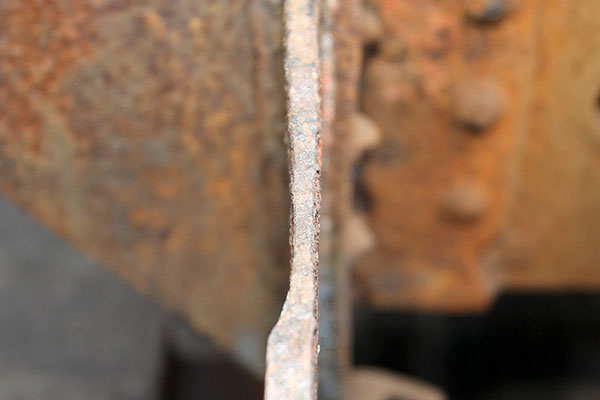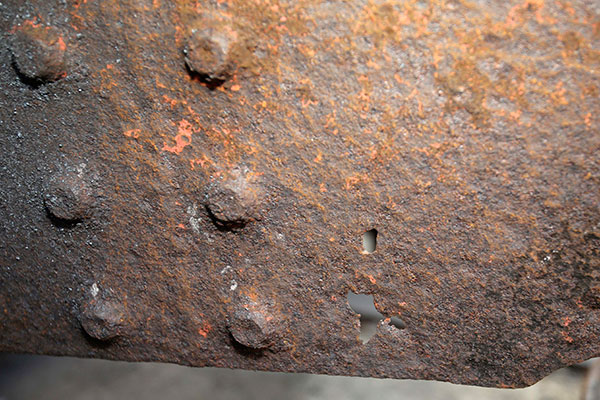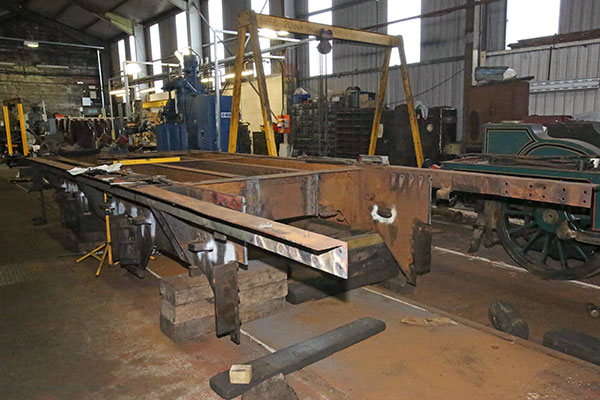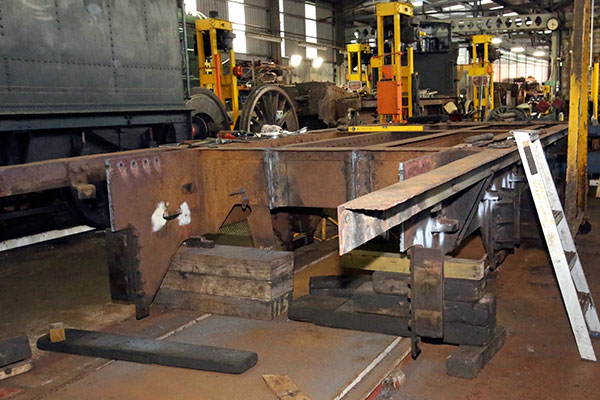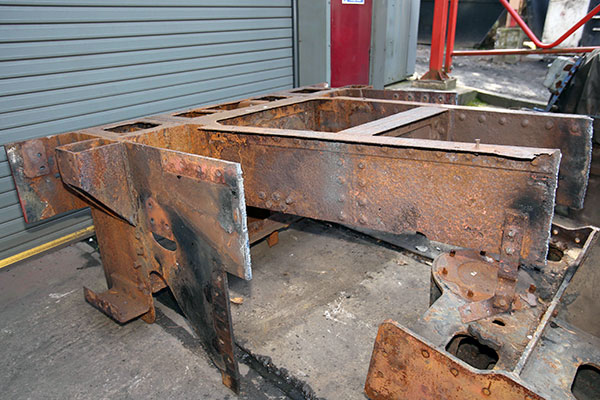 Thirtieth Anniversary of the reopening of Bewdley-Kidderminster
30th July 2014
Today marks the thirtieth anniversary of the opening of Kidderminster Town Station, and the reinstatement of passenger travel between Kidderminster and Bewdley. Together with LMS 5690 "Leander", 4930 "Hagley Hall" played a major role in proceedings during the day, hauling the re-opening special carrying official guests. It was also the first occasion that 4930 was united with a Collett tender, both loco and tender having received a repaint prior to this important event.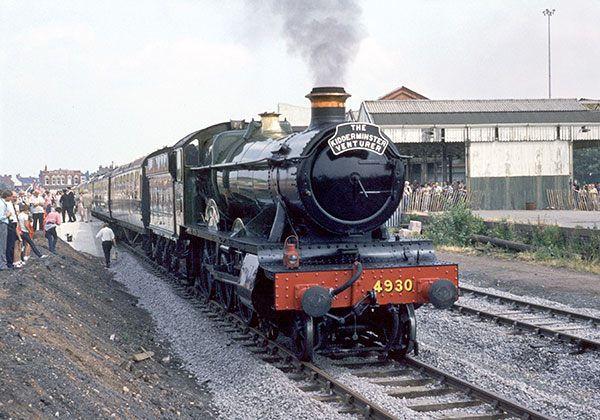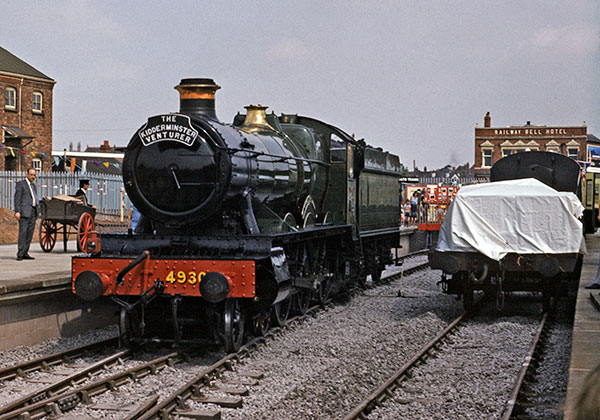 4930's Brief Encounters
15 July 2014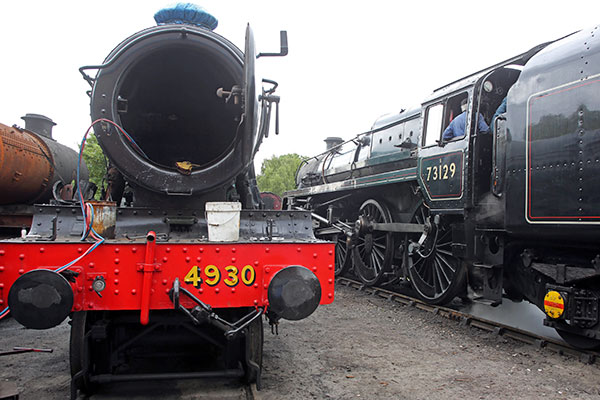 During the work earlier this month to burn off the tube ends prior to removal, 4930 is seen alongside ex-Barry Scrapyard BR Standard Class 5, No. 73129, which is visiting the Severn Valley Railway this summer. In January 1973, both engines were in the same convoy leaving Barry, 73129 being detached from the SVR locomotives at Kidderminster for its onward delivery to Derby.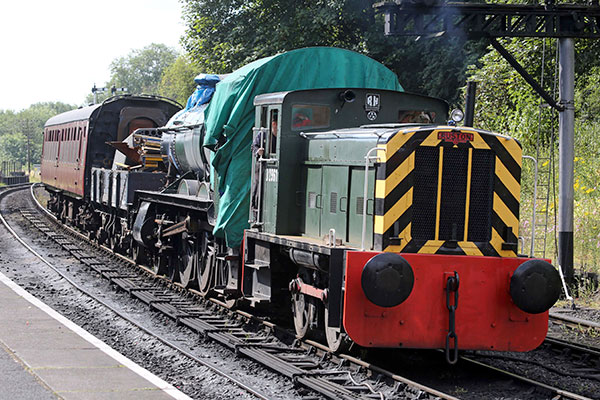 On 14 July 2014, a stock shunt was performed to allow road haulage access to Bridgnorth Yard for the removal of replica 'Catch Me Who Can', during which 4930 was unusually paired with Ruston Shunter D2961.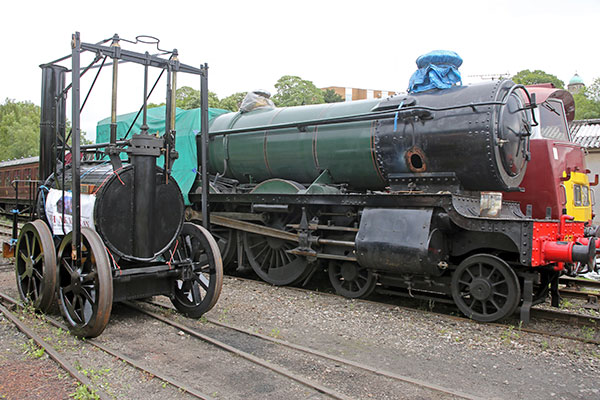 As replica of 1804-built 'Catch Me Who Can' awaits its road transport for its journey to the Dutch Transport Museum at Utrecht, 4930 is shunted in Bridgnorth Yard, alongside D1062. Note that the main steampipe of 4930 has now been removed. The Friends of Locomotive 4930 Hagley Hall Group will be present at Bridgnorth on Saturday 19th July, during the SVR's 'Behind the Scenes' Day, to explain how the restoration is proceeding.
4930 Progress Report
10th July
Good progress has been made in the past fortnight, on both locomotive and tender.
Group members have set to work on the locomotive, burning tube ends to allow removal of boiler tubes. All tube end burning has now been completed. Other components have also been removed for storage.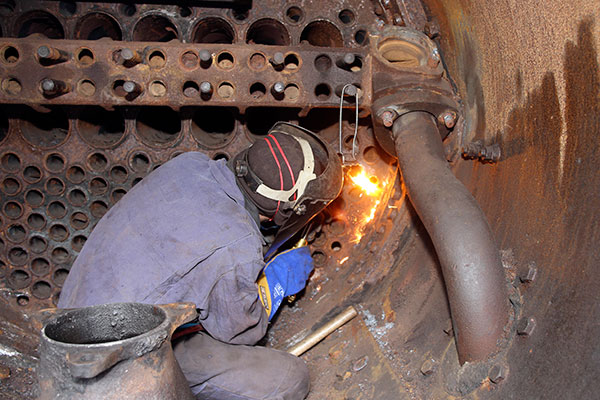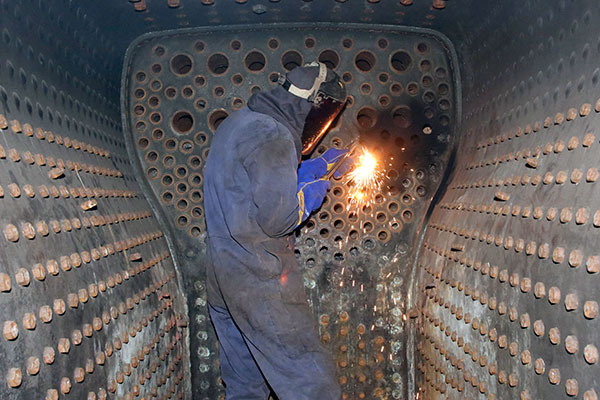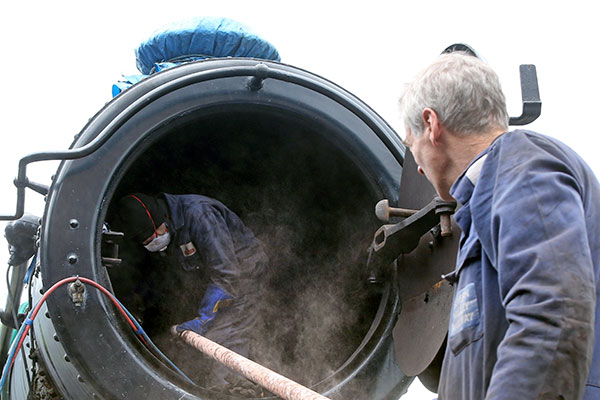 Removal of the first boiler tube on 5th July.
Major advances have taken place with the tender, now that the SVR's steam crane is again operational following its heavy overhaul. The steam crane was in use on 8th July, its first duty being to lift 4930's tender tank from the chassis. The tender tank has been examined and found to be unfit for further use, and it will now be stored pending disposal. A new Collett-design tender tank has now been ordered as part of the restoration project.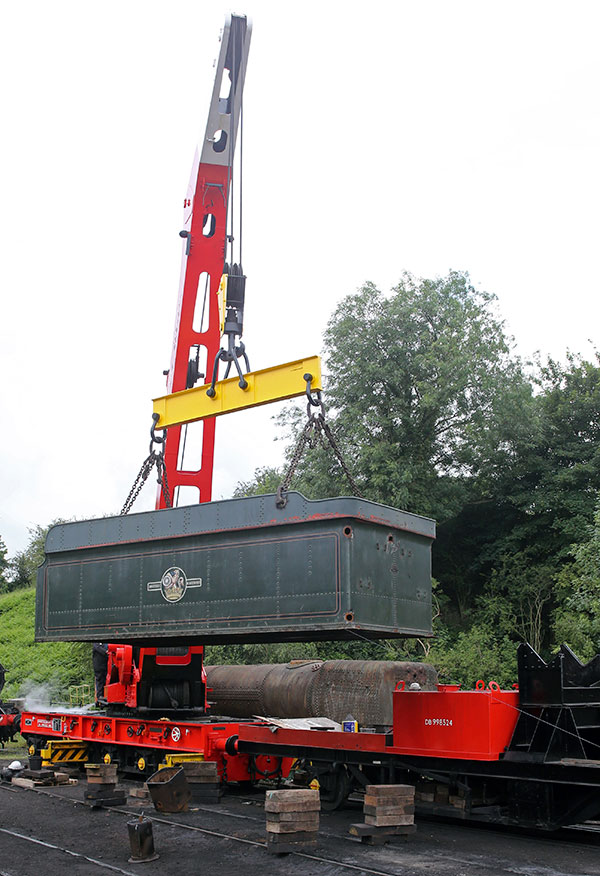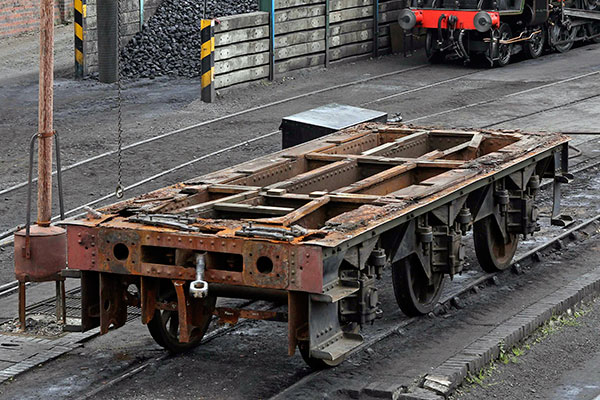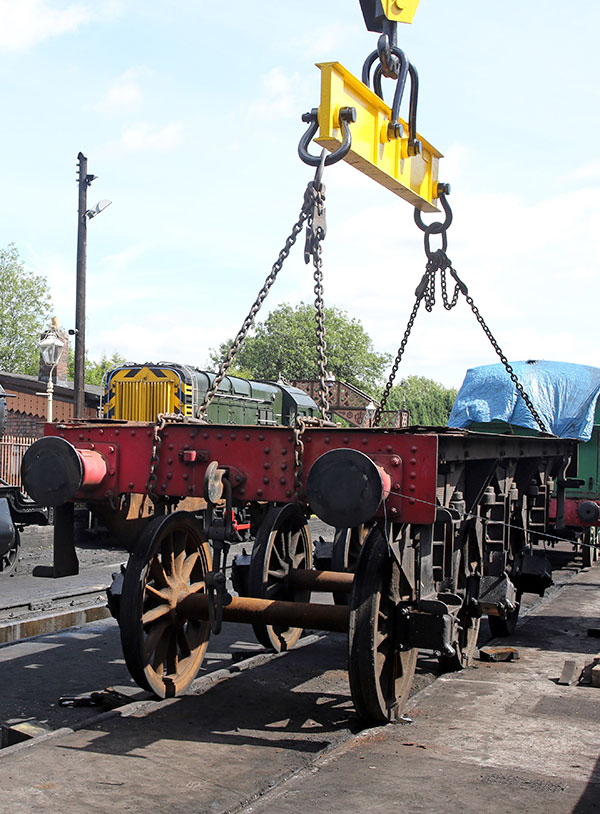 On 9th July, following a comprehensive repositioning of stock at Bridgnorth Works, and after initial de-scaling and rust-removal by volunteers, 4930's tender chassis frame was lifted from its wheels and placed on accommodation bogies. The tender frame has now been moved inside the works, where further activity can now begin in earnest. The wheelsets will now have their condition examined and assessed for further use.